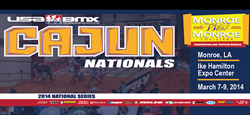 BMX Racing is America's No.1 family-oriented action sport, catering to boys and girls of all ages and skill levels.
West Monroe, Louisiana (PRWEB) March 08, 2014
One of America's largest action sports - BMX Racing, is coming to town. The USA BMX National circuit, which stops in 22 different states throughout the year in their 30-race schedule, will be taking place this weekend at Ike Hamilton Expo Center. Bicycle racers ranging in age 2 to 70-plus, will compete for the weekend awards and National points.
Saturday's racing will kick off with the Strider bike class, for 2 & Under, 3, 4 and 5 year olds. Youngsters as young as 20 months old have been seen racing a shortened section of the track on these pedal-less push bikes. Proving how BMX is a true family sport, at the other end of the spectrum, there will be plenty of parents and even some grandparents racing in the larger-wheeled classes for 30, 40, 50 and 60+ year olds. Many of the competitors in the older age groups were a part of the sports' beginnings back in the early 70's, while some have just discovered BMX racing through their kids and grandkids. BMX racing is one of the rare sporting activities where mom and dads get to compete along with their children.
The economic impact of this event will bring millions of dollars to the West Monroe economy and the event could not have taken place without the incredible support from the MonroeWestMonroe visitors bureau. Admission is free for spectators - and competition is available for boys and girls, as well as moms and dads of all ages.
Cajun National Schedule:
Date & Location: Friday, Saturday and Sunday - March 7 thru 9th, at Ike Hamilton Expo Center - located at 501 Mane St, West Monroe, LA 71292.
Friday: Action begins on Friday with practice throughout the afternoon and a pre-race starting at 5p.m.
Saturday: Practice continues in the morning and National racing kicks off promptly at 11:30 a.m. with Strider (balance bike) racing for 2, 3 and 4 year olds, followed by the first rounds of Pro racing.
Sunday: Action begins early - at 8:00 a.m., with the main events starting around noon.
ABOUT BMX RACING: Thanks in part to the global exposure that the Olympics have brought to the sport, BMX racing continues to grow in numbers and popularity with today's youth. As the largest extreme sport in the nation, BMX racing is full of nonstop action. Up to eight riders speed down the starting hill, maneuvering over dirt obstacles and around banked turns in hopes of gaining a spot on the podium.
LOCAL RACING: REBEL BMX TRACK. Every week, local riders can compete in the sport - at Monroe's Rebel BMX track. Weather permitting - racing takes place every Sunday, with sign-ups and practice going from 1:30-2:30 p.m. For more information, contact: Ted Bailey - 501-544-5988.