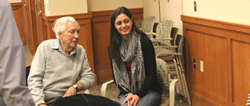 They shared a message of humanity which fits beautifully with the Brethren spirit of our community.
New Oxford, Pennsylvania (PRWEB) March 08, 2014
A handful of Gettysburg College history students made their way to Cross Keys Village in October 2013 to interview residents about their memories of World War II. Instigated by Professor Michael Birkner, Benjamin Franklin Professor of the Liberal Arts and professor of history at Gettysburg College, this oral history project has been in progress for close to 25 years: More than 600 oral histories have been collected, across a wide range of life experience during the World War II era.
Last Saturday, the students returned to Cross Keys Village to present the stories they had collected. Many residents from the "Greatest Generation" attended, including the ones who had volunteered to be interviewed last fall. Many captivating stories were shared, and more volunteers were recruited for the future. Interestingly, after 70 years, two villagers with harrowing Pacific Theater memories told stories of mercy and forgiveness.
Villager Leo Jarboe shared his recollections of kamikaze dive bombers when he served on the destroyer USS Callaghan. The guns of the Callaghan downed three dive bombers during the Okinawa campaign. One kamikaze pilot survived and the Callaghan's captain ordered him rescued and safely transported to another ship. As fate would have it, The Callaghan was hit by another dive bomber shortly thereafter and went down on July 28, 1945, the last Allied ship sunk by a kamikaze during the war.
Villager Carroll Adams recalled guarding a sentry post in occupied Japan one night, painfully aware that his weapon had no ammunition in it. He has seen civilians with sharpened bamboo spears, allegedly ready to fight to the end. One woman approached in the darkness, carrying a covered basket. Adams had visions of grenades and danger, but the woman opened her basket and offered him a warm sweet potato. Later on, as an airline pilot, he kept a special affection for Japan, our erstwhile enemy.
Elders like Leo Jarboe and Carroll Adams shared much more than memories with the Gettysburg students. They shared a message of humanity which fits beautifully with the Brethren spirit of our community. May we all continue to grow, learn, and understand each other better regardless of age.