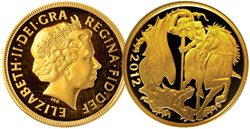 A gold sovereign like this comes around once in a lifetime. To be able to offer it to numismatists is a great honour for us.
London, UK (PRWEB UK) 7 March 2014
The Gold Sovereign is without doubt one of Britain's most famous coins: a coin so rich in history, it's considered by many as the flagship coin of the Royal Mint, and as much a part of Britain herself as the monarchy, whose likenesses have graced them for centuries. So it should only be fitting that the historic event of the celebration of Her Majesty's 25 years on the throne be commemorated with a one of a kind Diamond Jubilee Gold Sovereign.
It is only on a handful of truly special occasions since Queen Elizabeth II ascended the throne in 1953 that the original St George and dragon design by Benedetto Pistrucci has been amended. This is undoubtedly just one of those occasions, with the unique design on the back of the sovereign remaining in place for one year only. Just one monarch, the Queen's great-great-grandmother, Queen Victoria has reigned for more than 60 years, so a jubilee celebration and a commemorative sovereign the likes of this will probably never see the light of day again.
Made out of 22 carat gold, the sovereign has already become a true collector's piece in just a relatively short space of time. Demand has peaked and supply is low. However there is still hope for those whose collections quite simply wouldn't be complete without one. Hallmark Coins is proud to announce that for a limited time only they are able to offer these special 2012 Queen Elizabeth II Diamond Jubilee commemorative gold sovereigns to discerning collectors. Not only that, but they are also reducing the retail asking price of £315 to a lesser £239.
Elliot Basker at Hallmark coins says, "A gold sovereign like this comes around once in a lifetime. To be able to offer it to members of the public is a tremendous honour for us. This is a very exciting time for us as a company and the history of our great nation. And we're proud to be a part of it."
The British gold sovereign was first minted over 500 years ago and is internationally recognised as a valuable commodity. The unique design on the back of this particular sovereign was produced by Paul Day, a British sculptor living in France. He chose to opt for a Romantic version of the St George and the dragon theme – a medieval knight of Arthurian legend rather than a classical hero. In his mind's eye he chose the design so as to give the dragon a more threatening attitude and size, ensuring that it represented a real menace and not a weak foe.
Please note that this particular type of gold sovereign giveaway will form part of a regular feature at Hallmark Coins. Occurring on the first Friday of the month and open for a week only, make sure that you keep an eye open for the latest editions of coins to come on offer.
To find out more about the 2012 Queen Elizabeth II Diamond Jubilee commemorative gold sovereign or to order, visit their website: http://hallmarkcoins.co.uk/2012-giveaway. But hurry as this attractive sovereign has been so successful that it's almost sold out.