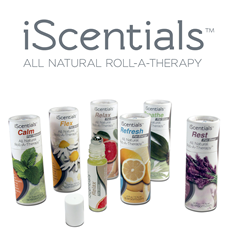 Cleveland, OH (PRWEB) March 25, 2014
The soothing benefits of all-natural aromatherapy are now available in a portable bottle offering the ease of use with a metal roll-on applicator. SpaRoom's iScentials are the newest addition to their ever-expanding line of healthy living products. iScentials is available in six specially-formulated fragrances to combat the most common ailments, and it is compact to fit in a purse, gym bag or pocket!
Created with pure essential oils and a holistic vegetable carrier, iScentials can be applied to the wrists, forehead or back of the neck to promote positive feelings and relieve common ailments. The all-natural roll-on therapy offers six remedies including "Calm" for headache; "Refresh" for energy; "Breathe" for sinus; "Relax" for stress; "Flex" for arthritis; and "Rest" for sleep.
iScentials complements the expanding line of SpaRoom's wellness products including AromaPen, a personal diffuser that broadcasts fragrance and aromatherapy in the size and shape of a pen; Aromafier, a compact and portable aromatherapy option; an ultrasonic ceramic diffusing mister that complements any décor; AromaMist™, a premier ultrasonic spa humidifier and diffuser; a sensory kit, an assortment of three fragrant essential oils: "Relax," "Refresh" and "Rejuvenate."
SpaRoom products are designed to provide the health and wellness markets with a better sensory experience–anytime, anywhere. From ultrasonic misters and soothing aromatherapy to the perfect spa slipper, it's easy to create a healthy, relaxing environment. Many of SpaRoom's products have already gained acceptance by leading spas, resorts and specialty retailers throughout the U.S. and in Europe.
For more information on SpaRoom premier line of products, visit sparoom.com, follow them on Twitter @YourSpaRoom, and see their products on Pinterest, pinterest.com/sparoom and on Facebook at facebook.com/SpaRoom.