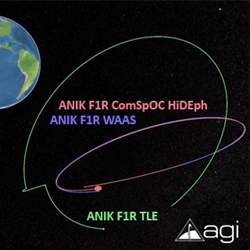 ...the ComSpOC offers more accuracy and readiness to satellite operators and intelligence analysts than other alternatives. - Paul Graziani, AGI CEO
Exton, PA (PRWEB) March 06, 2014
Analytical Graphics, Inc. (AGI) builds upon its experience developing world-class SSA solutions with the launch of the Commercial Space Operations Center (ComSpOC), a new service for commercial satellite owner/operators and government space operations centers. AGI is partnering with commercial, research and innovation organizations to establish a geographically diverse network of sensors that will provide persistent day/night tracking of all space objects in Earth orbit. The ComSpOC processes this data to generate a wide range of SSA products delivered through "Spacebook," a SOA-based data and analysis subscription service. ComSpOC will be unveiled in Booth 8133 at the Satellite 2014 Conference in Washington, DC, March 11-13, or you can learn more at comspoc.com.
Commercial sensing technology has evolved into an affordable, accessible and very capable alternative to traditional satellite tracking methods. Fusing and processing data obtained from this global network of optical and radio frequency (RF) sensors with AGI's advanced commercial off-the-shelf (COTS) SSA software, the ComSpOC offers a diverse set of tracking sources and locations to provide enhanced SSA products and services. ComSpOC uses COTS SSA products that have been selected by the U.S. Air Force for the Joint Space Operations Center Mission System (JMS) program.
"More than ever, obtaining accurate, up-to-the-minute information about the space environment your satellite is operating in is critical to assured and safe operations. Using data obtained from commercially available, affordable sensors and advanced COTS software, the ComSpOC offers more accuracy and readiness to satellite operators and intelligence analysts than other alternatives," says Paul Graziani, AGI Chief Executive Officer.
AGI software has been used since 1994 by U.S. national security organizations working in the SSA domain. Learn more at http://www.agi.com/ssa.