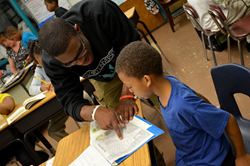 Washington, DC (PRWEB) March 06, 2014
Each year, hundreds of Howard University students give up spring vacations and trips home to honor the University's motto of "truth and service" during the Alternative Spring Break (ASB) program. From March 8 to March 14, nearly 400 students will volunteer more than 16,000 hours in Baltimore, Chicago, Detroit, Memphis, New Orleans, Washington D.C. and Haiti. Students will help tackle societal issues such as gun control, homelessness and illiteracy.
Since 1994, the ASB program has fostered a spirit of service and leadership among Howard University students. The program is coordinated through the Office of the Dean of the Chapel with significant institutional support from the Office of the President coupled with the help of generous donations from Howard alumni, students, staff, faculty and residents from Washington, Maryland and Virginia.
"Every time I come back from ASB, I come back changed," said Taylor Davis, a junior nursing student. She is scheduled to volunteer in Detroit this year and has volunteered in Memphis and Atlanta the last two years. "As students, we come to give to our communities and quickly realize that those communities have just as much to give us in return."
Students will depart from Cramton Auditorium on Saturday, March 8 at 12 p.m. Before departing, students will participate in a send-off ceremony at 10 a.m. at the auditorium.
Follow the students' progress via the Alternative Spring Break Blog.
Alternative Spring Break Locations and Activities
Baltimore
Locations: Baltimore Liberation Diploma Plus High School, YO! Career Academy, and the Boys & Girls Club

Work with alternative schools to help students prepare for the Maryland State Exams and progress to the next grade level.
Work with grassroots community programs to help in their organizational efforts
Mentor elementary and middle school aged students.
Chicago
Locations: St. Sabina, Downtown Advocacy, Donda's House & Hip Hop Detox, and Brave Youth

Mentor high school students and work on implementing better gun control through petitioning, protesting and community engagement.
Detroit
Locations: Pulaski Elementary School, Osborn High School Group, Christ Child House, Christian Guidance House, and Detroit Rescue

Work with different schools on reading comprehension skills, college prep, and writing.
Participate in service work in the community and mentor younger students to boost educational morale.
Host an education rally with local officials.
Washington
Locations: Dunbar High School, Stokes Public Charter School, Capital Area Food Bank, Metro Teen A.I.D.S., and Homeless Playtime Project

Participate in service work catering to those infected with HIV and those who are homeless.
Encourage education and skill development in high schools through leadership development and academic enrichment.
Memphis
Locations: Cornerstone Prep, Shelby County Schools, Caritas Village, Memphis Teacher Residency

Teach health and sexual education to at-risk children.
Plant community gardens and produce informative videos about their experience.
Work with a local elementary school to help the lowest- performing students in reading and mathematics.
Host an education summit that will focus on helping students to define success and plan for the future.
New Orleans
Locations: Fannie C. Williams Charter School, Lower Ninth Ward Village Community Center

Provide educational mentorship for students.
Tutor students in preparation for standardized tests.
Support post-Katrina restoration efforts in the Ninth Ward.
Plant community gardens to help support healthy diets.
Haiti
Locations: Beyond Borders (Jacmel), various sites in Ecole Shalom

Conduct dental hygiene workshops, hearing screenings, and basic health trainings.
Increase awareness of child slavery and the fight against the practice.
Teach English to elementary school students.
Help develop a student debate team for a local school.