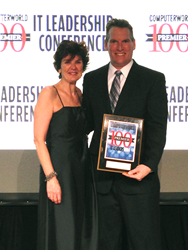 Fort Lauderdale, FL (PRWEB) March 06, 2014
Cross Country Home Services Chief Information Officer Joel Steigelfest has been named to IDG's Computerworld's list of 2014 Premier 100 IT Leaders. The list spotlights 100 leaders from both the technology and business sides of companies for their exceptional leadership and innovative approaches to business challenges.
"This is a well-deserved recognition for Joel who is instrumental in helping us leverage technology to bring a seamless experience to our customers along every touch point," said Sandra Finn, president of Cross County Home Services, a leader in cost-effective home solutions, including warranty products and maintenance plans.
Technology plays a major role in the growth and success of Cross Country Home Services, along with continued commitment to providing unmatched customer service. Steigelfest was able to balance the demands of supporting key operational business initiatives while spearheading the company's enterprise technology platform transformation, coined "Atrium." The new platform will provide an improved contact and claims processing system, streamline existing processes, place focus on the end-user experience and ensure engaging user interfaces and features. In conjunction with this initiative, Cross Country Home Services fundamentally reexamined its business processes from the ground up to create new business models and opportunities.
"The Premier 100 awards program, now in its 15th year, shines a well-deserved spotlight on a group of talented, creative and hard-working men and women who are driving technology innovation in business, education and government across the country and around the world," said Scot Finnie, editor-in-chief of Computerworld. "Technology advances quickly, and these leaders excel at keeping pace with the changing needs of customers and employees, and making fast technology decisions that map to their organizations' top priorities. They have developed a deep bench of talented IT staffers at their organizations and managed to keep their own skills fresh by constantly mastering new technologies and processes. We are privileged to recognize the leadership and achievements of the 2014 Premier 100 honorees."
About the Premier 100
The Premier 100 program was created in 2000 to spotlight individuals who have had a positive impact on their organizations through technology. These are individuals who manage internal IT organizations, mentor and motivate their IT teams and business colleagues, create a positive work environment, envision innovative solutions to business challenges and effectively manage and execute IT strategies. Each year, nominees are invited to complete a questionnaire that addresses a number of topics, including their background and experience and their attitude toward risk and innovation. Using Computerworld's IT Leader Index, which is a measurement of how closely an individual matches our definition of the IT Leader, we analyze the data. Each year, 100 honorees are selected to receive this life-time recognition award. Information on previous honorees can be viewed at: http://www.computerworld.com/s/article/9065479/Premier_100_IT_Leaders.
About Cross Country Home Services
Cross Country Home Services, Inc. (CCHS) provides a full selection of reliable home management plans. Consumers can purchase home warranty services directly from CCHS at http://www.totalprotect.com. In business since 1978 and headquartered in Fort Lauderdale, Fla., CCHS is a member of the Cross Country Group.
About Computerworld
Computerworld is the leading IT media brand helping Sr. IT, business decision-makers and key influencers navigate change with effective business strategy. Computerworld enables the IT value chain with unique editorial coverage from setting strategies to deriving value from core to edge technologies. Computerworld's award-winning website (http://www.computerworld.com), publication, focused conference series, custom solutions and research forms the hub of the world's largest (40+ edition) global IT media network and provides opportunities for IT vendors to engage this audience. Computerworld leads the industry with an online audience of over 7.1 million monthly page views (Omniture, February 2013) and was recognized in BtoB's 2013 Media Power 50 list; recognition Computerworld has received for more than 5 consecutive years. Computerworld is published by IDG Enterprise, a subsidiary of International Data Group (IDG), the world's leading media, events and research company. Company information is available at http://www.idgenterprise.com.