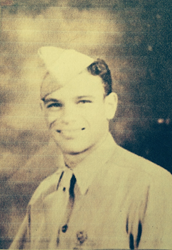 Approximately every two minutes a memory of World War II – its sights and sounds, its terrors and triumphs – disappears. Yielding to the inalterable process of aging, the men and women who fought and won the great conflict are now in their 80s and 90s.
Scottsdale, AZ (PRWEB) March 07, 2014
Andy Bergner of Patton's Third Army, 76th Inf. Div was drafted at just 18 and fresh out of high school. Bergner relays his experiences in his book 'Just Call Me Soldier Boy – World War II - Letters of Andy Bergner' which comprises of a series of 270 letters he wrote to his neighbor. In one such letter, he states, "The butterflies are playing havoc inside my stomach. This is largely due to imagination. For when you don't know what's going to happen next, you can imagine almost anything."
His daughter, Laurie Bergner Maggiano, who compiled and edited the book commented, "The letters, which lay forgotten in an attic since 1946, provide first person witness to the experience of a boy becoming a man in the crucible of World War II. My father was among the last wave of young Americans to be drafted to the war. He arrived in Europe in early 1945 in time to participate in breaking the Siegfried Line and pushing the Germans to final surrender. He spent only six months overseas. His service was short but brutal. Yet, in reading these funny, homey, often pious, sometimes painful letters, a hero emerges who speaks through these letters on behalf of a hundred thousand other 18-year-old heroes who left the Boy Scouts and ball fields of middle class America for the killing fields of war."
Andy made the decision to pick up a paintbrush aged 60; "Anyone at 60 who paints has a lot of gall," states Bergner. "In fact, I had all the gall and signed all my paintings accordingly; D'gall." Bergner will be participating in AHAF classes until the second week in March, when he will be returning home in Middleburg, Virginia.
Morrie Bishaf has a similar story and of course one that is shared between many of the WWII Veterans across America. Bishaf was an Army Rifleman in the 104th Infantry, partaking in the European Theatre and Battle of the Bulge. His bravery was rewarded with a Purple Heart after an anti-personal mine took out two squads of which Bishaf was a casualty and a survivor. Bishaf was drafted in 1944 and boarded the Queen Mary in New York for the voyage to Europe. The swimming pool on the luxury liner was emptied and used as accommodation for the thousands of soldiers heading to war – an image we simply cannot imagine today.
"Fear was ever present," says Bishaf. "You just did what needed doing." After the war, Bishaf gained his degree in engineering from I.I.T. on the G.I. Bill and pioneered his own successful company, Amerpro, which produced bicycle helmets until he retired in 1996.
At 88 years of age, Bishaf is taking the AHAF painting classes and is an active member of his community - leading a weekly discussion group on Current Affairs and a member of the men's group G.E.L. (Gentlemen Enjoying Leisure).
Judi Combs expressed, "The Arizona Fine Art Expo [of which she is CEO & Partner] and our charity, American Healing Arts Foundation [CEO & Founder], connect, inspire, educate and enhance the experience and appreciation of fine art. We are so honored to welcome two WWII veterans to the AHAF art classes held here at the EXPO. It is so important to thank every veteran and serving U.S. Military for our freedom - They will never be forgotten."
The National WW2Museum's website details astonishing facts including, "At the end of the war, the nation was the proud home to nearly 16 million veterans. Today, that number stands at just over a million. By 2036, it is estimated there will be no living veterans of World War II left to recount their experiences."
http://www.nationalww2museum.org/honor/wwii-veterans-statistics.html
The mission of AHAF is to heal through the arts and art therapy. Cases of post-traumatic stress disorder remain high for both wounded and uninjured soldiers and the suicide and divorce rate continues to soar. Art has proven to be a wonderful form of therapy for the victims of combat and AHAF hopes to utilize this to change veterans' lives for the better. "We are touching veterans' lives one day and one class at a time," says Kim Bulot. For further information about AHAF and the classes, please call Kim Bulot on 480-717-9888 or visit AmericanHealingArtsFoundation.com.
AHAF Classes are held Monday through Saturday - great selection of art classes in many mediums for U.S. Veterans & Serving Military - No Experience Necessary.The classes continue through March at the Arizona Fine Art Expo 26540 N Scottsdale Road, Scottsdale 85254.
 
The Arizona Fine Art Expo is open to the public everyday 10 a.m. -6 p.m. thru March 30th, 2014.
Admission & Parking:
One-time fee season pass is $10, $8 for seniors and military.
For more information, visit http://www.ArizonaFineArtEXPO.com.
For additional questions, call 480.837.7163.
Parking is free.