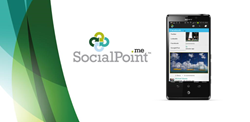 Cincinnati, Ohio (PRWEB) March 10, 2014
SocialPoint.Me has added its first phase of notifications to its Android app today. SocialPoint users will be able to access and either enable or disable their Facebook and Foursquare notifications. SocialPoint plans on adding this functionality to its iOS app next, Even more network notifications are planned for later this year.
In addition, the AT&T feed and connect have both been updated to allow AT&T users to connect seamlessly right from their SocialPoint.Me app.
"Notifications is another step in bringing complete social interaction to our users through one app," said Chris Burnett, SocialPoint.Me's Vice President of Marketing. "This is a feature that our users have requested, and we are happy to be able to provide it."
SocialPoint.Me plans to continue to add additional features to both apps throughout the second quarter. Soon users will be able to import their social contact lists and use custom feed filters, further tailoring their social media activity to meet their particular needs and interests.
The SocialPoint.me iOS app is also being updated to include the new AT&T feed / connect update and will release the AT&T update as well as the notifications update within the month.