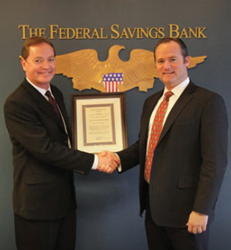 One should be confident about homeownership before looking. Again, be sure to secure financing to act swiftly.
Chicago, IL (PRWEB) March 06, 2014
The housing market in 2013 was marked by rising home prices and low inventory, creating a competitive environment that made it difficult for some buyers to make a new home purchase. With many institutional and residential investors buying homes with all-cash offers, The Federal Savings Bank saw first-time home buyers had a particularly hard time getting a new home. As the 2014 spring selling season is about to kick off, the lender offers a few pieces of advise to become more competitive in the current real estate environment:
Get preapproved
First-time home buyers typically need to purchase a home with the help of a mortgage. Compared to all-cash offers, however, first-time home buyers or those purchasing a home with a mortgage might not be a seller's first pick. Getting preapproved by a lender shows that a buyer is already guaranteed a certain loan amount. In short, a preapproval shows a seller that a buyer will be able to get a loan for a certain amount. Prequalification is not the same as preapproval. Instead, a prequalification simply shows that lenders have seen some of your financial information, but no papers have been signed and there is no guarantee you will be able to get a loan. This distinction is important when looking at homes for sale or making an offer. In addition, The Federal Savings Bank views this process as imperative in a rising interest rate environment which is being experienced now.
Make a firm decision
If the desired home to purchase is found, then one must make a firm decision if they are going to make an offer. It is important to carefully consider the pros and cons of being a homeowner and be sure that one is ready to be responsible for the extra expenses, repairs and work before house hunting. Once decided, make an offer, and be sure to stick by it unless new information comes to light. Backing out of a deal can be expensive, one will want to 100 percent sure they have found the right house before they are ready to be a homeowner. Ideally one does not want to rush this decision, but in this competitive market, with low inventories, one should be confident about homeownership before looking. Again, be sure to secure financing to act swiftly.
Make a good offer
After one spends some time looking for a new home has been preapproved for a home loan, the next step is to put an offer on a house. Making a good offer that is close to the asking price is often the best way to receive a positive response from the seller. However, this stage includes competition with other buyers. In 2013, it was not unusual for homebuyers to find themselves outbid by others. In some regions, homes were selling above their asking price due to the low inventory of homes available. In the most competitive markets, you may need to offer full asking price to secure a new home.
Contact the Federal Savings Bank, a veteran owned bank, to find out more about affordable mortgage options.