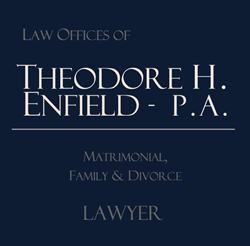 MIAMI, FL (PRWEB) March 07, 2014
Unfortunately, due to custody rulings, men are often left holding the very short end of the stick in a divorce. The primary custody holder (usually the mother) is often granted most of the marital assets, especially if they and their legal counsel can prove that a man is "unfit" in any way to hold custody. Therefore, having a great lawyer is essential, and is just one of the many things that can help prepare a man for divorce.
Family law attorney Theodore Enfield announced today that his calm, positive, and astute legal counsel is now available to men who believe that they may soon be going through a divorce or are going through one now. Legal counsel is always recommended for anyone in the precarious position of going through divorce. As a divorce lawyer, he also recommends a list of things to do that will better prepare clients for the process.
Prior to court, during depositions, men should not reveal more than is absolutely necessary to move the proceeding forward. However, this does not mean being in the dark—men should do as much research and record-keeping as possible as to their finances, their family's situation, and if there are children involved, they should have clear opinions about every aspect of their care and well-being. This is important because it will show how dedicated the father is, and will demonstrate responsible planning for the lives of those children.
After all, much of divorce is about perception, and the parent perceived most able to take care of children will usually be the one awarded the most custody rights. Either way, a Miami divorce attorney like Theodore Enfield can be essential when presented with this situation.
When children are involved, it is especially important to have a skilled lawyer. Custody laws can be complex and easy to misconstrue, and as a result, former spouses can find many reasons to disagree. Divorce lawyers in Miami like Theodore Enfield can assist in interpreting the law in a way that is favorable for clients.
Of course, when it comes to a very serious matter like custody, the ethical values of the parents; health and personal well-being, both mental and physical, of the parents; the child's (or children's) performance in school; the personal preferences of the children; if the children are intelligent, understanding, and experienced enough to have preferences; any abuse, even neglect are all taken into consideration. Florida alimony laws are also crucial in cases like this, and Theodore Enfield is an expert in alimony as well.
To Contact Theodore Enfield please call 305-933-9592, 1(800) 733-5299 for a free consultation or visit his website at http://www.theodoreenfield.com/.