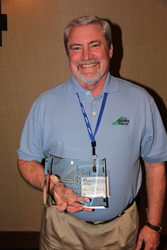 Houston, TX (PRWEB) March 06, 2014
When The Growth Coach needs someone to mentor new owners, help develop training tools, speak at conferences, lead webinars or just serve as a sounding board, they know they can count on Glenn Smith, franchise owner of The Growth Coach of Houston. That's why Smith was recognized with this year's Growth Coach Go-Giver Award.
"Glenn is one of those people you can always count on. He gives back to the system without expecting an incentive because he knows the positive long-term impact of his contributions. His go-giver mentality is something we all recognize and appreciate – and it's why he was the winner of the Go-Giver Award this year," Growth Coach President Nathan Owens said.
Smith was presented with the award at The Growth Coach's annual conference in San Antonio on Feb. 17. This is actually the second time Smith has been named as the company's Go-Giver.
"I certainly didn't expect to win any sort of award for the work that I do within the system, especially not twice. Honestly, when I'm asked to do those sort of things – like work with the new owners – I just don't think any different. Of course I'm willing to help. Helping people is just part of being a Growth Coach, but I am honored to have been recognized," Smith said.
The Growth Coach, the #1 business and sales coaching franchise for 2013 according to Entrepreneur Magazine, is dedicated to helping small business owners, business leaders, management teams, sales people and self-employed professionals to be more successful while finding the necessary balance between business and life. While The Growth Coach is the world's largest provider of affordable group coaching workshops, their coaches also provide one-to-one coaching, remote coaching delivered via phone and web, and special project coaching. Smith's business serves Sugar Land, Katy, Missouri City, and the West Houston area.
"The work that I do within The Growth Coach system is all aimed at helping our entire franchise family be stronger. If I can help provide new resources and tools, or help new owners get off the ground, clients around the world will benefit. When we all work together and give back, we can help more people," Smith said.
Smith joined The Growth Coach as a franchise owner in 2006, but he's been working as a business coach for more than 10 years and has 30 years of experience in business and organizational leadership. He's a popular speaker and has presented to groups of 20 and 2,000 about everything from leadership and work/life balance to marketing and business strategy. Smith was recognized as The Growth Coach of the Year for 2011 and he serves on The Growth Coach's Presidents Forum advisory board. He is also the Board Chairman for the Fort Bend Chamber of Commerce for 2014.
To learn more about how The Growth Coach of Houston can help you be more successful and find the important balance between work and life, call 271-841-6680, visit g.smith(at)thegrowthcoach(dot)com or visit http://www.thegrowthcoachhouston.com.
About the Growth Coach
The Growth Coach was founded in Cincinnati in 2002 and is the only pure business and sales coaching franchise aimed at driving success while balancing the lives of business owners, managers, sales people, self-employed professionals and executives across a wide spectrum of businesses and industries. The Growth Coach specializes in group workshops and individual coaching with the goal of helping clients gain greater focus and leverage to work less, earn more and enjoy more fulfilling lives. The Growth Coach is active in more than 140 markets in the United States and abroad and is always looking to expand domestically and internationally. For more information about the company or the process of opening a business coaching franchise, visit http://www.TheGrowthCoach.com.