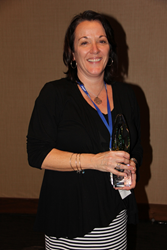 Fort Mill, SC (PRWEB) March 06, 2014
When a new coach comes through training with The Growth Coach, they get a visit from company founder Dan Murphy and he gives them something special – a "No Parking" sign. It's an important message to coaches because it's a physical reminder that you can't build your business and sales coaching franchise from behind the desk.
And for those who truly embrace what that award means, there's a corresponding award.
This year The Growth Coach is proud to announce that Diane Wagner, owner of The Growth Coach of Fort Mill, SC, was awarded The Growth Coach's No Parking Award.
"The No Parking Award is a coveted award and it's not one that's won every year. We only give this award to those people who are quickest to action – the one or two people every five years who finish training, push away from the desk and get moving. People like Diane," said Nathan Owens, President of The Growth Coach. "The No Parking Award is really the founder's award for The Growth Coach and it truly signifies that the winner is extremely passionate about launching their business. We're proud of Diane and we were thrilled to present the No Parking Award to her this year."
The Growth Coach, the #1 business and sales coaching franchise for 2013 according to Entrepreneur Magazine, is dedicated to helping small business owners, business leaders, management teams, sales people and self-employed professionals to be more successful while finding the necessary balance between business and life. While The Growth Coach is the world's largest provider of affordable group coaching workshops, their coaches also provide one-to-one coaching, remote coaching delivered via phone and web, and special project. Wagner's Growth Coach franchise serves Fort Mill, Rock Hill and Columbia in South Carolina.
The award was presented to Wagner at The Growth Coach's annual conference in San Antonio on Feb. 17.
"I was totally blindsided by the award. The 'No Parking' sign from Dan actually means a lot to me. I have it prominently displayed above the computer in my office to remind me to get out, meet people, spread the word about The Growth Coach and to build my business," she said. "It's easy to spend time just getting ready, but you have to get moving. I take that very personally."
Wagner officially launched her business in early November of 2013. Before opening her Growth Coach franchise, Wagner spent 20 years in corporate America and the next 12 years as President of a wholesale insurance operation she helped start from scratch in 2001.
"Being an entrepreneur myself for many years, I know what business owners are facing and I can relate. There are many challenges owning a business today. I believe looking at the business strategically and having a plan that you execute daily, is a must for long term success." In addition to working with business owners, Wagner enjoys coaching sales teams as well, from experienced sales people to newbies. "It is so much fun to introduce sales training to contractors who are in the field selling additional services, folks who might not have had sales training in the past. The results can be truly remarkable."
The Growth Coach was recently included in the Bond's Top 100 Franchises and was recognized in Entrepreneur Magazine's "Franchise 500" as the #1 Business Coaching and Consulting Franchise for 2013 as well as in the magazine's "Best of the Best" and "Top Home-Based Business" listings. The company's Strategic Mindset Process is so effective that it comes with a money-back guarantee.
To learn more about The Growth Coach of Fort Mill can help you improve your business, call (803)526-7346, email d.wagner(at)thegrowthcoach(dot)com or visit http://www.thegrowthcoach.com/dwagner.
ABOUT THE GROWTH COACH
The Growth Coach was founded in Cincinnati in 2002 and is the only pure business and sales coaching franchise aimed at driving success while balancing the lives of business owners, managers, sales people, self-employed professionals and executives across a wide spectrum of businesses and industries. The Growth Coach specializes in group workshops and individual coaching with the goal of helping clients gain greater focus and leverage to work less, earn more and enjoy more fulfilling lives. The Growth Coach is active in more than 140 markets in the United States and abroad and is always looking to expand domestically and internationally. For more information about the company or the process of opening a business coaching franchise, visit http://www.TheGrowthCoach.com.