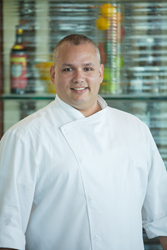 Bal Harbour, Florida (PRWEB) March 10, 2014
Chef Ferdinand Ortiz Jr. has been appointed Executive Chef of Mister Collins, located at ONE Bal Harbour Resort & Spa, a member of the prestigious Personal Luxury Resorts & Hotels®. With over 20 years of experience in both the hospitality and restaurant industries Chef Ortiz will oversee the hotel's food & beverage operations including Mister Collins, the resort's signature restaurant, in addition to the the Pool Bar & Grill and In-suite dining. General Manager, Rikki Boparai, made the announcement.
In his new role, Chef Ortiz will take his love of combining locally-sourced ingredients and classic menu items, with a twist. "I like to bring bright flavors and unexpected ingredients to the plate, with impeccable technique," state Chef Ortiz. As for his plans for the menu, Chef Ortiz says, "I've been working diligently on signature menu items exclusive to Mister Collins. A Petite Veal Porterhouse, Chorizo-Vegetable Flan and Faux Apple Souffle are a small taste of some new dishes we are sure will impress our diners.
Chef Ortiz discovered his love for cooking age of 13 in his hometown of Brooklyn, New York. As the oldest of eight children, Chef Ortiz helped his mother prepare traditional Puerto Rican dishes and classic Italian meals at an early age. As a teenager, he was hired by the owners of Il Bambino, a local family-run Italian restaurant to help inside the kitchen. He quickly fell in love with the experience and four years later he was promoted to sous chef. Through trips to Europe, including Italy, Franca and Spain, Chef Ortiz developed a passion for Mediterranean cuisine. His travels led to culinary trips to San Francisco to work with esteemed chefs such as Michael Mina at Aqua, Ron Siegel at Masa's Restaurant, George Marrone at Redwood Park and Thomas Keller at French Laundry.
Chef Ortiz has used his experience and love for food to open restaurants throughout the country and manage kitchen operations. His roster includes Lantao Kitchen in Miami Beach, Lombardi's in Miami and Bungalow 9 in Fort Lauderdale where he received a Zagat score of 28 within his first year there. In addition, Chef Ortiz has worked at Urbana Restaurant and Wine Bar in Washington D.C, Kimpton Restaurant Group and Rosa Mexicano in Miami. Chef Ortiz was a Corporate Trainer for China Grill in Miami Beach, where he opened three restaurants under the company's umbrella.
# # #
About ONE Bal Harbour Resort & Spa
A member of Personal Luxury Resorts and Hotels®, the oceanfront ONE Bal Harbour Resort & Spa offers 124 elegant, ocean-view rooms. Guests access their rooms through semi-private elevators and, once inside, enjoy spacious floor plans and first-class appointments like European wood cabinetry and granite countertops, free-standing tubs in bathrooms with 10-foot, floor-to-ceiling windows that overlook the Atlantic Ocean and inlet, and living spaces that flow on to large panoramic terraces with unparalleled views.
The resort's signature restaurant, Mister Collins offers flavorful, home-style American cuisine with a focus on fresh, local, high-quality ingredients and exceptional execution. Ideally situated on the water, Mister Collins offers both indoor and al fresco dining, a wide range of classic courses and a selection of wines to accommodate any palate and preference.
The SPA at ONE Bal Harbour features a 10,000 square foot facility with ten private treatment suites complete with ocean views, a serene waterfront terrace and a reflecting room for pre-and post-treatment relaxation, available for hotel guests and Miami locals alike.
For more information visit http://www.onebalharbourresort.com/.
About Personal Luxury Resorts & Hotels®
Personal Luxury Resorts & Hotels® includes unique hand-picked properties in spectacular U.S. destinations coast to coast. Each hotel and resort delivers personal luxury in a spirit true to its own distinctive locale, yet in keeping with the collection's shared mission. They represent a select portfolio of Benchmark Hospitality International®, which has been a leading US-based hospitality management company for over 30 years. Personal Luxury Resorts & Hotels is the preferred choice of guests who yearn for transformation over accommodation, customization over conformity, and inspiration over predictability. With Personal Luxury Resorts & Hotels, luxury is always personal. http://www.personalluxuryresortsandhotels.com. To become a fan on Facebook, visit http://www.facebook.com/PersonalLuxuryResortsandHotels, or follow us on Twitter at http://www.twitter.com/PersLuxResorts.