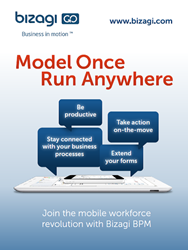 We are excited to be part of the Gartner summit, which promises to bring together the best in BPM.
London, United Kingdom (PRWEB UK) 11 March 2014
Mobility, agility and ROI will be key themes as Bizagi offers delegates the opportunity to speak with BPM professionals from across its business, helping both new and seasoned BPM users to:

Understand why flexible architecture is critical for long-term BPM success
Learn how its unique data, reuse and virtualization capabilities deliver business agility
Hear how customers such as adidas Group, Mars and BAE Systems achieve ROI with Bizagi
Reinvent the BPM strategy for today's mobile enterprise.
As part of its ongoing investment in its user community, Bizagi is also offering all visitors the opportunity to enter its #FlyMeBizagi competition. This innovative football-themed incentive gives delegates the chance to win flights to this year's FIFA World Cup in exchange for software referrals.
Jolanta Pilecka, Bizagi CMO comments:
"We are excited to be part of the Gartner summit, which promises to bring together the best in BPM. As one of the leading BPM brands online with 2.5 million software downloads, these kind of events provide a rare opportunity to meet the people who make it happen and to get insights on the next stage of their BPM initiatives."
Complementing Gartner's theme of 'Preparing for the Digital Business Revolution', Bizagi is also offering delegates the chance to unlock their way to a free iPad mini.
"Our fun competition underlines the fact that Bizagi users have all the tools and know-how needed to connect to their processes, around the clock, on any device. We'd welcome anyone who wants to come along and try their luck."
As a sponsor of the event, Bizagi is also offering all delegates a €300 discount on the standard delegate rate. To take advantage of this discount please quote GSBPM5 when registering.
---
About Bizagi
Bizagi (which stands for business agility) is a privately-owned company run by software entrepreneurs who are experts in Business Process Management (BPM). Over 350 global customers have selected Bizagi to model and automate their business processes which results in improved operational efficiencies, shorter time to market and business agility. Our enterprise customers gain significant competitive advantage by using Bizagi's software to streamline mission-critical processes (cross-functional, complex and international) as well as mundane daily routines. With global headquarters in the UK, offices in Europe and Latin America, Bizagi is supported by a strong implementation partner network worldwide. For more information, please visit http://www.bizagi.com.
Media information
Vasileios Kospanos
T: +44 (0)1494 618543
M: +44 (0)7539 181256