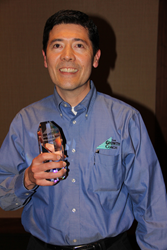 San Francisco, CA (PRWEB) March 06, 2014
The Growth Coach, the international leader in business coaching workshops, is proud to announce the Coach of the Year for 2014: Michael Neuendorff, owner of The Growth Coach franchise in the San Francisco Bay Area.
"Michael's numbers are excellent, but it's about more than that. He's always willing to help support our other franchise owners around the world in any way possible and, last year, he also took over the Sales Help Desk. He's truly a mentor and a leader within our system," said Nathan Owens, President of The Growth Coach. "Michael is one of our top performers – in the top five percent – and he still makes time to give back to our system. That's what made him our Coach of the Year."
The award was presented to Neuendorff at The Growth Coach's annual conference in San Antonio on Feb. 17.
"I was completely surprised by the award. Surprised and very touched," Neuendorff said. "I'm not someone who craves recognition, but it is invigorating to hear about the positive impact I've made on the system and my fellow coaches. I've worked hard and I definitely appreciate the award."
The Growth Coach, the #1 business and sales coaching franchise for 2013 according to Entrepreneur Magazine, is dedicated to helping small business owners, business leaders, management teams, sales people and self-employed professionals to be more successful while finding the necessary balance between business and life. While The Growth Coach is the world's largest provider of affordable group coaching workshops, their coaches also provide one-to-one coaching, remote coaching delivered via phone and web, and special project coaching.
Neuendorff, who is celebrating his fifth year as a Growth Coach franchise owner, serves the entire San Francisco Bay Area. In addition to his work as a coach, Neuendorff also runs the Sales Help Desk for fellow coaches, is part of The Growth Coach's Presidents Forum advisory board and is regularly asked to help with presentations and webinars for Growth Coaches from around the world.
"When I started working with the Sales Help Desk and the President's Forum last year, it ushered in a year of being much more involved. I'd established my business and those two opportunities gave me a chance to work much more closely with coaches throughout the system and give back. It's been a great experience," he said. "Honestly, being more involved has given me a renewed sense of confidence and energy."
Before becoming a Growth Coach, Neuendorff was a marketing director at Oracle Corporation and an assistant manager of direct marketing at Softbank Forums. Michael also has been a top inside sales manager and has extensive experience in team building, leadership, training, mentoring and teaching. Neuendorff, who has an Advertising degree from Arizona State University and has completed post-graduate coursework through Heriot-Watt University of Edinburgh, Scotland, is also an accomplished public speaker with more than 15 years of experience.
Although Neuendorff is excited about his future as a Growth Coach, he's thrilled about where the entire brand is heading as a leader in business and sales coaching.
"The Growth Coach has a family feel and is special because we're focused on values that go beyond bottom lines and profits. What we do is not just about helping you be successful in your business or at work, it's about helping you find that work and life balance that's so important. My website is http://www.buildandbalance.com and I chose that for a reason. As Growth Coaches, we're absolutely focused on the entire person," Neuendorff said.
"With The Growth Coach's leadership and new suite of tools – there's really never been a better time to be a Growth Coach. It's exciting to be recognized at such a pivotal moment for the brand," he added.
The Growth Coach was recently included in the Bond's Top 100 Franchises and was recognized in Entrepreneur Magazine's "Franchise 500" as the #1 Business Coaching and Consulting Franchise for 2013 as well as in the magazine's "Best of the Best" and "Top Home-Based Business" listings. The company's Strategic Mindset Process is so effective that it comes with a money-back guarantee.
To learn more about how The Growth Coach of the San Francisco Bay Area can make a difference in your life, call 650-373-2022, email m.neuendorff(at)thegrowthcoach(dot)com or visit http://www.buildandbalance.com.
ABOUT THE GROWTH COACH
The Growth Coach was founded in Cincinnati in 2002 and is the only pure business and sales coaching franchise aimed at driving success while balancing the lives of business owners, managers, sales people, self-employed professionals and executives across a wide spectrum of businesses and industries. The Growth Coach specializes in group workshops and individual coaching with the goal of helping clients gain greater focus and leverage to work less, earn more and enjoy more fulfilling lives. The Growth Coach is active in more than 140 markets in the United States and abroad and is always looking to expand domestically and internationally. For more information about the company or the process of opening a business coaching franchise, visit http://www.TheGrowthCoach.com.