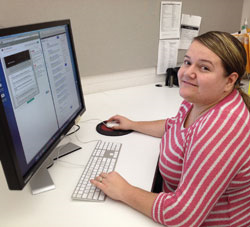 "Because I envision myself being successful in the future, I have sought ways to expand and grow under influential and empowering leadership." said Carolina Trinidad, Design Student at HCC and TFI Envision, Inc. Intern, 2014
Norwalk, CT (PRWEB) March 07, 2014
Internships are a proven way for students to gain relevant knowledge, skills, and experience while establishing important connections in the field. It allows students an opportunity to find out if a specific field is something they could see themselves doing as a full-time job.
TFI Envision, Inc. has partnered with a number of colleges to bring in students for both internships and 'shadowing' programs. "We learn as much from our student interns as they learn from us. We are happy to be part of the learning process for students, which will ultimately make our industry better. We encourage other businesses to invest in students by participating in internship programs. It's a 'win-win' for everyone." said Elizabeth P. Ball, President / Creative Director of TFI Envision, Inc.
Currently, TFI Envision has an intern, Carolina Trinidad, from the Art and Graphic Design program at Housatonic Community College (HCC) in Bridgeport, CT. HCC's course offerings are balanced between traditional studio skills, such as painting and design, and the latest innovations in computer technology and contemporary aesthetics. The Art Department's strength is in the many resources available to their students that few other two-year colleges offer.
Since 1975, TFI Envision, Inc. of Norwalk, CT, has specialized in developing strategic design and marketing solutions for branding, packaging, promotion, digital and corporate communications; helping organizations achieve their marketing and communication goals with compelling, consistent messaging that is on brand and on target.