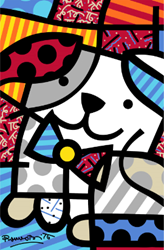 "We're very excited to introduce the Britto tile collection in the U.S. at the same time we're opening our new Miami showroom because Britto's style is so celebrated in Miami." – Marble Of The World CEO Charles Urso
Fort Lauderdale, FL (PRWEB) March 10, 2014
Marble Of The World, a leading South Florida exotic stone importer and distributor for over 25 years, recently became the first and only U.S. distributor of a new collection of colorful, whimsical ceramic tile designed by iconic international artist Romero Britto. Romero Britto is a Brazilian Neo-pop artist, painter, serigrapher, and sculptor. He combines elements of cubism, pop art and graffiti painting in his work. Britto has lived in Miami, Florida since 1989 and has become a key figure in the Miami art world.
"We're very excited to introduce the Britto tile collection in the U.S. at the same time we're opening our new Miami showroom because Britto's style is so celebrated in Miami," Marble Of The World CEO Charles Urso said in an announcement. "A key part of our brand strategy is to offer exclusive and unique materials, so we are constantly sourcing new and exclusive product lines," Urso added. Marble Of The World is also an authorized distributor for Roberto Cavalli luxury tiles, Radianz by Samsung, and other exclusive products and brands.
The vibrant Britto ceramic tiles are handcrafted near Brazil (birthplace of Romero Britto) by highly-regarded ceramic tile manufacturer Pamesa Ceramica. The product line includes Basic, Kitchen, Pop, Kids, Teen and Pool. Now the distinctive Britto style that the New York Times exclaimed "exudes warmth, optimism and love" can be incorporated into any design project – indoors or outdoors – to achieve a look that is playful, modern and fun. The Pamesa by Britto tile collection is on display at all three Marble Of The World locations. To view the complete Britto collection online, visit: http://www.marbleoftheworld.com/index.php/default/decorative-elements/parmesa-britto.html
About Marble Of The World
Marble Of The World is a leading U.S. importer of rare and exotic natural stone for flooring, countertops and more. The world's finest travertine, onyx, granite, marble, quartzite, limestone, semi-precious and engineered stone are featured in its three Florida showrooms: Miami, Fort Lauderdale and Palm City/Stuart. Worldwide shipping and export assistance available. For more information, visit http://www.marbleoftheworld.com or call 800-537-6995.
-----------------------------------------------------------------------------------------
Download Images Related to This Press Release:
https://www.hightail.com/download/elNKVWRuTkFtUUc5TE1UQw