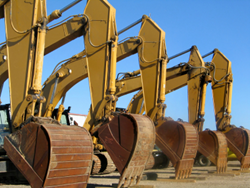 Unlock Working Capital and Improving Cash Flow
Corpus Christi, Texas (PRWEB) March 08, 2014
Ironwood Finance (http://www.ironwoodfinance.com), providers of unsecured, short-term capital financing for small businesses, today announced its new sale-leaseback financing program. The program allows small business owners to sell assets and then immediately lease them back, unlocking working capital and improving cash flow.
"The program is the perfect option for small firms in the construction industry, using construction assets such as heavy construction equipment, heavy machine tools or titled commercial vehicles," stated Kevin Donahue, founder and CEO of Ironwood Finance. "We finance or lease most construction and heavy equipment, including trucks, bulldozers, tractors and cranes."
The construction industry is a high hazard sector that encompasses a wide range of activities involving building, alteration and repair. According to a report conducted by Jones Lang LaSalle's (JLL), a firm that tracks trends in the construction field, the industry has evolved significantly in 2013. Despite years of economic decline, which brought the construction sector to a standstill, a steady improvement was seen throughout 2013, especially in the healthcare, retail, distribution and lodging sectors. And in 2014, the industry is predicted to grow even further, allowing construction firms to increase their spending on leasing or upgrading equipment to maximize workflow and revenues.
"I have followed trends that are driving the recovery of the construction industry closely, and the growth I've seen over the last years has promises to promote a more stable construction industry in the long-term," said Donahue. "Offering sale-leaseback financing allows small firms to buy or lease construction assets to expand their operation, regardless of personal or business credit."
Ironwood Finance's new sale-leaseback program also can provide additional tax deductions for the seller, and unlike other forms of financing, it offers the benefit of choosing an optimal mix of existing assets and term combinations to yield the best fiscal outcome.
About Ironwood Finance
Based in Corpus Christi, Texas, Ironwood Finance helps small business grow by offering working capital when they need it. Loans are approved based on cash flow, not credit history, and Ironwood Finance boasts a 90-percent loan approval record. Loans of up to $500,000 are available for up to 18 months to help with equipment leasing, working capital, or other aspects of business operations.
For more information, please visit http://www.ironwoodfinance.com