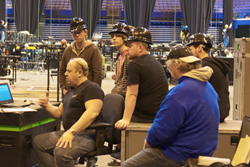 "It was an amazing experience for the students!" - Tony Cottrill, Director of Live Sound
Nashville, TN (PRWEB) March 06, 2014
After finishing their first six weeks of instruction, The Blackbird Academy Live students headed to Lexington, KY for the sold out That's My Kind of Night, Luke Bryan Tour. The tour, supported by Clair Global – Nashville, used an extensive gear list that included a Midas XL4, a Yamaha SPX 90II, an Eventide Eclipse, multiple Aphex 622s, a Mac HD4 Protools Rig, an SD7 w/ Waves Soundgrid server, a TC M3000 as well as many Clair main, side and rear cabinets.
Director of Live Sound, Tony Cottrill, said "It was an amazing experience for the students, from load-in to load out and all of the education in-between. Students had All Access Passes, a first class ride on a brand new tour bus, great engineering/music and topped the weekend off with meeting the star of the show!"
About The Blackbird Academy
The Blackbird Academy Professional School of Audio is a post-secondary, mentor-based educational facility, offering Studio Engineering & Live Sound Engineering Programs where students are taught by professional instructors and award winning guest lecturers. Each of the programs is six months in length, with four start dates per year. Maximum enrollment is 30 students per class.
The Blackbird Academy is built on the foundation of Blackbird Studio, the Nashville home to a community of engineers, producers, musicians and technical staff who over the years have taken the art of audio recording to new heights. Blackbird Studio, under the ownership/leadership of John and Martina McBride, has become the leading recording studio in the country. John's love for Audio and Education led him to create The Blackbird Academy in 2013.
The principles and beliefs that guide the Academy's programs are simple: Challenge and educate students by presenting them with real life scenarios that an engineer/producer would encounter on a daily basis; and train students in studios and labs that are professionally designed for engineers to hone their craft.