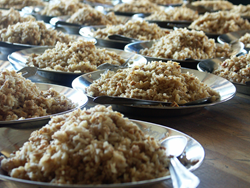 Bloomington, MN (PRWEB) March 06, 2014
Kids Against Hunger, whose mission it is to reduce the significant number of hungry children throughout the world, will be converting to a new formula to meet the World Health Organization's nutritional standards. This new formula will contain less salt and increase vitamin A, a nutrient that many lack in other countries.
By meeting the standards of the World Health Organization, Kids Against Hunger will be able to reach more people around the world. The World Health Organization sets the standards for global health matters and coordinates help for those in need.
The new formula for Kids Against Hunger was engineered by Karlsburger, who creates all the formulas for Kids Against Hunger. Scientists formulate all Kids Against Hunger meals to make sure they can provide protein, carbohydrates, amino acids and vitamins to malnourished children. Their meals are simple to package, store and make. They typically are dry and require only boiling water to prepare.
Among the foods produced by Kids Against Hunger are white, long-grain rice; vitamin-fortified, enriched soy as a source of protein; dehydrated vegetables and vitamin and mineral powder. Numerous taste tests were conducted to maintain the flavor of the current Kids Against Hunger rice casserole.
Kids Against Hunger's rice casserole provide all the nutrients children require for better health in each serving. They meet safety regulations and have a shelf life of three years. Kids Against Hunger keeps children from starving and saves lives. Find out how to support Kids Against Hunger by visiting http://kidsagainsthunger.org.
About the company: Kids Against Hunger packages highly- nutritious, life-saving meals for starving children and malnourished children and their families in developing countries and in the United States. The goal of the organization is for their meals to provide a stable nutritional base from which recipient families can move their families from starvation to self-sufficiency. Kids Against Hunger accomplishes this by mobilizing the energy and compassion of American children, teens and adults on behalf of hungry children around the world. Kids Against Hunger seeks to end the literal hunger of children receiving the meals, but also satisfies a hunger among prosperous Americans - a hunger for meaning and contribution. For more information about the organization, please visit their website at http://www.kidsagainsthunger.org.