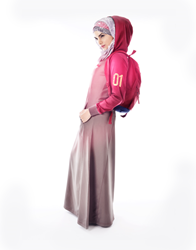 Whether it's the speech, the actions or the way they dress, Muslim women always had it in them to Inspire Change through their Sisterhood
London (PRWEB UK) 7 March 2014
The new SisterHood jilbab (http://tiny.cc/9el9bx) is the result of Islamic Design House paying homage to the "Inspiring Change" theme for this year's International Women's Day on 8th March.
Islamic Design House is a retailer of Islamic fashion, and a jilbab is the Islamic word for a modest long dress. The SisterHood jilbab is part of the Spring 2014 collection of Silk Route Clothing, which is a label specialising in fusing modesty with fashion to suit the contemporary lifestyle needs of Muslim women.
Regarding the SisterHood jilbab, the Senior Marketer at Islamic Design House, Amin said, "This star piece really captures the essence of the Silk Route brand as we celebrate Sisterhood this International Women's Day. Whether it's the speech, the actions or the way they dress, Muslim women always had it in them to inspire change through their Sisterhood, which is why the theme of this year's International Women's Day really resonates with the values of our customers."
The design itself embodies a gold embossed Route 01 logo on the arm and a red hood that cheekily dovetails with the name of the jilbab, SisterHood. It is available to buy from any Islamic Design House outlet or other stockist of Silk Route Clothing range of jilbabs.
As part of the International Women's Day celebrations, Islamic Design House is asking their customers how they benefited from being part of the Sisterhood and will share the results via their social media channels.
About Islamic Design House
Islamic Design House, established for 6 years, it is an apparel company focusing on meeting the contemporary Islamic lifestyle needs of the modern Muslim. It does so by housing the most innovative brands such as its own Silk Route Clothing label. It is based in London, UK and has presence around the globe spanning four continents (America, Europe, Asia and Africa) via websites, local distributors and physical stores.
For more information, please visit http://www.IslamicDesignHouse.com/.
About Silk Route Clothing
The Silk Route Clothing label was established in 2006 with the sole aspiration of serving the clothing needs of Muslim women who want to fuse modesty with fashion to suit their contemporary lifestyle needs. It's core products are exclusively modest long dresses known as jilbabs.
For more information, please visit http://www.SilkRouteClothing.com/.
About International Women's Day
Annually on 8 March, thousands of events are held throughout the world to inspire women and celebrate achievements. A global web of rich and diverse local activity connects women from all around the world ranging from political rallies, business conferences, government activities and networking events through to local women's craft markets, theatric performances, fashion parades and more.
For more information, please visit http://www.InternationalWomensDay.com/.
Contact
To learn more about the SisterHood jilbab, Silk Route Clothing or Islamic Design House, please contact:
Amin Rahman, Senior Marketer
Islamic Design House, Unit 7, 5 Yeo Street, London E3 3QP
Office: +44 (0) 8000 855 540 or +44 (0) 207 538 0846 (from a mobile or internationally)
amin(at)islamicdesignhouse(dot)com