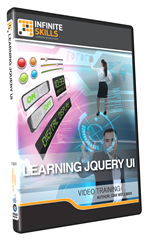 Learn jQuery UI at your own speed
(PRWEB) March 06, 2014
Software training firm Infinite Skills, Inc. last week released its Learning jQuery UI Tutorial, a course designed for experienced web developers, which offers a comprehensive guide for using the official jQuery widget library and its extensive set of tools and features, including widgets, utilities, and basic effects and animations.
JQuery UI is a JavaScript library built on top of and for use with jQuery JavaScript. The library is supported by jQuery and provides abstractions for low-level interaction and animation, advanced effects, and high-level, themeable widgets, all of which can be used to enhance web pages and web applications.
Infinite Skills' "Learning jQuery UI Tutorial," provides a complete guide for implementing the tools offered in this useful library. The course is organized so that users can select lessons addressing their specific needs, and will serve as a continuing reference for jQuery developers.
Learning jQuery UI Tutorial - Video Training
Course author Dan Wellman is a front-end developer specializing in JavaScript. He currently works in the Skype division of Microsoft England, helping to bring a web-based video calling and chat experience to worldwide users. Wellman also writes books and tutorials on varying web design topics including jQuery and jQuery UI, HTML, CSS, and PHP. He has written six books and co-authored three others.
Here, Wellman takes students on a guided journey through all the tools offered in the jQuery UI library.
After introducing jQuery UI and the course itself, Wellman begins by explaining the jQuery UI core, looking at methods, core selectors, and method overrides.
As the course progresses, he explains the jQuery widgets, the accordion widget, the progress bar widget, the tabs widget, and several others.
After exploring all the widgets, Wellman looks at jQuery UI's features for theming, interactivity, and animations, exploring selectable interaction, resizable interaction, drag and drop interaction, and much more.
The course closes with a look at the jQuery UI Widget Factory, where users can use a basic toolset to create custom widgets.
"jQuery UI is a complete suite of useful components that can be used to enhance web pages and web applications," Wellman explains.
"This course will get you up to speed with the jQuery UI library, showing how to use widgets, interaction helpers, and utilities, and how to make most of additional features such as effects suite and theming."
Free demo videos and a full list of course contents can be found on the Learning jQuery UI training page of the Infinite Skills website:
http://www.infiniteskills.com/training/learning-jquery-ui.html
Infinite Skills offers its Learning jQuery UI Tutorial either as a DVD or a direct download from the company website at a retail price of $49.95. All titles and formats are compatible with Mac and Windows operating systems. Shipping is available around the globe. Additionally, Infinite Skills tutorials are supported by project files which correspond to examples in the videos, allowing users to work alongside experienced instructors right on their computer or iPad.
About Infinite Skills Inc.
A leader in the field of software training, Infinite Skills designs its courses on a task-oriented model, teaching complex skills by providing hands-on examples and guiding users as they carry out essential functions. Infinite Skills offers a wide range of software titles available as DVDs, digital downloads, and in iPad editions. Infinite Skills now offers a subscription service, providing access to all its training content for a monthly fee, keeping with company's aim of delivering professional training to customers anywhere they want to learn.