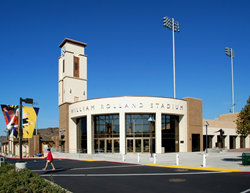 Camp Shane is an experience that everyone is proud to be part of—staff, parents and the kids. It gives us such joy to see the difference that Camp Shane can make in a child's life.
Croton on Hudson, NY (PRWEB) March 06, 2014
Thousand Oaks, California is the new location of Camp Shane's expanded weight loss camp facility. The gorgeous setting, nestled against the Santa Monica Mountains, is open and receiving new camper applications for this summer's weight loss camp programs, which offer two, four and six-week options. "The new location in Thousand Oaks is a huge improvement for us in terms of convenience, climate, facilities and programming," says David Ettenberg, Owner/Director of Camp Shane.
For forty-six years, Camp Shane weight loss camp has helped transform the lives of kids and young adults. Not like a boot camp, but through a beloved program of outdoor fun, educational activities and healthy living choices, Camp Shane teaches children ages 7 to 16 how to completely re-shape their bodies and their lives. "We like to think of it as providing a tool-box with a user-friendly manual. Our campers love it here" says Ettenberg.
New to Camp Shane California this year is our Young Women's Program for ages 17-25. Since 1969, this has been a very successful and effective program at the New York camp. It is one of the very few such programs that focus on this age group and is extremely affordable, making it particularly appealing.
Through an easy yet effective nutrition program, focusing on everyday foods and portion control along with invigorating outdoor activities, the campers at Camp Shane not only lose weight but also learn simple techniques for keeping it off. One of the open secrets is that Camp Shane accomplishes the weight loss through a uniquely nurturing environment which teaches positive self-esteem combined with physical activities in which the children enjoy participating.
Located just 10 miles from the Pacific Ocean, Camp Shane at Thousand Oaks has a number of advantages versus the previous campus further south. First, the accommodations are more luxurious with suites featuring two bedrooms each, a generous living room and private bathroom. Second, with the natural emphasis on an active outdoor lifestyle there are more ball fields, three pools, 12 tennis courts and a new state-of-the-art multi-million dollar gym. Third, even during inclement or overly hot weather nothing slows us down as all the indoor facilities are air-conditioned. Finally, the new location offers better proximity to Burbank and greater Los Angeles, making airport access very convenient.
In addition to the lifelong friendships routinely made every summer, parents are truly impressed with the variety of supervised 24/7 activities available for Camp Shane children. The daytime activities alone are a full slate, with abundant swimming, softball, soccer, tennis, basketball, arts & crafts, volleyball, yoga, dance studio programs, weight lifting and even horseback riding. After a nutritious dinner the kids engage in nightly scavenger hunts, talent shows, movie nights, dances, campfires and DJ parties. And, the weekends are filled with special events for everyone such as carnivals, Las Vegas gaming, Fear Factor, Shane Idol, Slip n' slides and theatre productions.
Ettenberg emphasized "Camp Shane is an experience that everyone is proud to be part of—staff, parents and the kids. It gives us such joy to see the difference that Camp Shane can make in a child's life."
Even though Camp Shane is recognized as the country's top-rated youth weight loss camp program, it maintains competitive pricing to ensure its services are available to all children who need to lose weight. Click California weight loss camp for additional information about Camp Shane California, including an enrollment form and request for a brochure.
Since 1968, Camp Shane has been dedicated to fighting obesity in children and teens. Camp Shane, featured on MTV, Oprah and Dr. OZ, offers five weight loss camps in New York, Arizona, Georgia, Texas and its new Thousand Oaks, CA facility featuring healthy menus, nutrition education, self-esteem building and an extraordinary number of fun activities. By empowering children with the knowledge and the skill set they need to make healthy living choices, Camp Shane has helped tens of thousands of children transform their lives and gain the self-confidence they deserve.