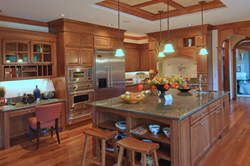 "The Cabinets.com domain offers instant credibility to any cabinet builder or seller while providing long term SEO and marketing savings." – Andrew Rosener
Chicago, IL (PRWEB) March 07, 2014
Can you imagine carefully selecting a new automobile, paying for it and driving it every day, before knowing if it's a BMW or a Hyundai? Well, along with cars and homes, cabinets are among the top five most expensive purchases made in a one's lifetime; yet a whopping 85% of cabinet owners do not know (or often care) what brand name stands behind them! Whether building new or remodeling, consumers simply prefer to search for "cabinets" …And after paying an average of $18,000 - $40,000 for quality, functionality, and design, they typically forget the brand name soon after purchase. This makes cabinets and ideal product for selling and marketing online- and the playing field is level, except for the one player who owns the most important domain name, Cabinets.com!
Word of mouth and online search supply the two primary sources for consumer purchasing information in the cabinet industry. In a once-in-a-lifetime opportunity, the domain name Cabinets.com is now for sale via domain brokerage firm Media Options.
CEO Andrew Rosener commented, "The Cabinets.com domain is one of the best- if not the best- ecommerce domain names that has come to market in my recent memory. When you look at the fact the company Blinds.com reportedly just sold to Home Depot this year for over a Billion Dollars[1] and did over $100 million per year in annual revenue, you can easily use your imagination to see the potential behind Cabinets.com. Cabinets cost a multitude more than blinds and are in every single household; whereas blinds could be replaced by curtains or often left without any window treatment. We expect Cabinets.com to sell quickly."
Some entities build their primary site on a domain name that is not their brand name,[2] and the cabinet industry is an ideal candidate for this type of online strategy since brand name is not as important or recognized by consumers. As a 2012 Microsoft study[3][4] shows, domains with exact keywords like Cabinets.com not only maximize search engine ranking performance, but also increase click through and conversion rates in ecommerce.[5] Utilizing a "category killer" domain like this is often recommended as a savvy proactive move, establishing the owner as the definitive resource in that field. But Cabinets.com is not just a category killer domain, it's a billion dollar brand being sold at a fraction of its true value.
Cabinets.com owner, Steve Krengel, says, "From our research, we're seeing companies in the online cabinet space selling more than 100,000 cabinets a year with better revenues than 90% of the traditional manufacturers and twice the profit per sale. Owning Cabinets.com provides immediately credibility and we believe will serve as a launching pad for any company looking to dominate the online space in this $10 Billion - $20 Billion industry."
Cabinet consumers conduct heavy online research when making a decision about their cabinets and increasingly make their final purchase online. With the already fierce competition in the cabinet industry plus the huge 25-50% or even greater margins, the Cabinets.com owner will be positioned very strongly and will no doubt benefit from immense growth.
According to Kitchen & Bath Business, or K&BB, [6] about 25,000 US firms specialize in kitchen and bath design and installation, so competition is indeed fierce. In 2008, $16.2 billion was spent in the US specifically on wood kitchen cabinets, according to Dun and Bradstreet's 2009 Industry Reports. [7] Dealers like Lowe's sell the majority of cabinets, paying Google and other search engines each month to advertise to consumers searching "cabinets." Home centers and distributers sell about 20% each of total market share, also competing for clients via search engines and other marketing. Despite the 25-50% profit margin on cabinet sales, almost all sellers capture additional revenue by offering design services as well.
Custom cabinet-makers often sell cabinets for custom homes where the cabinets alone can cost $350,000 or more. With these staggering sales numbers, however, they face a difficult challenge: consumer marketing. Custom cabinet makers hit a wall as consumers often assume they're a product that can only be purchased locally. Custom cabinets can indeed be delivered and installed far away by a full service custom cabinet-maker like Arizona-based Distinctive Custom Cabinetry, which has even provided custom cabinets internationally to Canada. A domain name like Cabinets.com immediately conveys this availability- and credibility- to the consumer regardless of location or distance.
Cabinet sales stay strong in an up or down market, because they are sold for remodels and renovations as well as for new construction. The cabinet industry has seen 4.1% annual growth in the last 5 years, and according to IBISWorld [8] is expected to continue growing at the same rate or higher.
Media Options is based in Panama City, Panama and is a leader in premium domain name brokerage as well as discreet and professional domain acquisitions. Please visit http://www.MediaOptions.com to learn more about Media Options or to sign up for their domain investment newsletter.
(1) DNJournal.com, January 2014. http://www.dnjournal.com/archive/lowdown/2014/dailyposts/20140127.htm
(2) Media Options, June 2013. http://www.mediaoptions.com/misc/why-build-on-a-domain-that-doesnt-match-your-brand-name.html
(3) Microsoft Research, February 2012. http://research.microsoft.com/pubs/155941/domainbias.pdf
(4) Media Options, June 2012. http://www.mediaoptions.com/misc/domain-bias-during-search-scientific-study-explains-what-factors-make-domain-names-more-likely-to-be-clicked-and-that-the-domain-name-leaves-users-more-satisfied-with-content.html
(5) Media Options, December 2013. http://www.mediaoptions.com/misc/how-exact-match-domains-drive-revenue-and-decrease-ad-budgets.html
(6) Highbeam Business Industry Reports, January 2014. http://business.highbeam.com/industry-reports/wood/wood-kitchen-cabinets
(7) Herald Tribune Industry IQ, January 2012. http://www.heraldtribune.com/assets/pdf/advtips/IQ_KitchenCabinets.pdf
(8) IBISWorld Cabinet & Vanity Manufacturing Market Research Report, January 2014. http://www.ibisworld.com/industry/default.aspx?indid=861