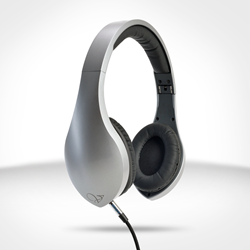 Austin, Texas (PRWEB) March 07, 2014
With 30 years of high-end audio technology innovation under the company's belt, Velodyne Acoustics (http://www.velodyne.com) is poised to make its debut at SXSW – in style.
The Silicon Valley company -- widely recognized as the leading manufacturer of high-performance, low distortion powered subwoofers -- has expanded its line of technically innovative in-ear and over-ear audio products with interchangeable custom-designed skins that enable audiophiles to personalize the look of their headphones.
At SXSW, Velodyne will showcase its audio product line in Stand #726, at The Trade Show; Stand #401, at the Gear Show; and at Maggie Mae's, site of "The Austin Jump-Off 2014," set for Wednesday, March 12, from 11:30 a.m. to 5:30 p.m., in the heart of Austin's entertainment district. Those stopping by any of the Velodyne venues can get their badge QR code scanned, which will automatically enter the code into an exclusive SXSW drawing. Winners will be posted at http://www.velodyne.com.
Velodyne's on-ear vLeve and vFree headphones are available with designer skins that enable music lovers to engage in the art of personalization, matching the style to the sound. vLeve and its optional skins – 35 and counting – will be on display during SXSW. Created by Marta Hall, international artist and Velodyne president, designer accessory skins – silicon-based and flexible, with clean snapping edges -- start at $39. In addition to making a fashion statement, skins offer extra protection for headphones.
Bringing the creative spirit to Velodyne, Hall suggests that the skins are what wearable technology is all about. "The Velodyne vLeve and vFree are ideal for those who value both high-quality sound and high style," Hall said. "Our designer skins add a dramatic new dimension to the product – they're a means for consumers to personalize their headphones while engaging with artists."
Select Velodyne headphones and skins are available at Amazon.com, BestBuy.com, Velodyne.com, and at 20 Airport Wireless and 15 Techshowcase stores located in 18 airports nationwide.
Velodyne gear on display in Austin will include:

At $99, vPulse in-ear headphones combine a secure fit with outstanding sound quality, making them the ideal choice for music and mobile calls on the go. vPulse headphones feature precise, low-distortion audio quality, the result of a 10mm driver and aluminum housing. Intuitive in-line controls provide options for volume, music playback and mobile phone calls.
Velodyne's new $219 on-ear vLeve headphones, available with designer accessory skins enable music lovers to match the style to the sound. The vLeve can be folded up for compact storage; flexible Designer Skins provide a distinctive stamp and can be modified literally in a snap.
Velodyne's $299 vFree® on-ear headphones remove the constraints of wired headphones and offer the perfect canvas for Velodyne's personalized skins, enabling consumers to instantly and easily change the look of the headphones to match the mood.
At $299, Velodyne's vQuiet noise-cancelling on-ear headphones reduce unwanted sound by 90 percent, enabling consumers to focus on nothing but the music they love. The vQuiet can be folded up for compact storage.
Velodyne's $349 vBold wireless headphones offer Bluetooth® connectivity compatible with the iPhone®, iPod Touch®, iPad® or any Bluetooth®-capable device. Wireless sound reproduction is accurate and true, thanks to aptX® coding. A direct connect audio cable is included for optional wired connection. In addition to the convenience of being wireless, the vBold can be folded up for compact storage.
With an MSRP of $399, vTrue® raises the bar for studio headphones, combining Velodyne's award-winning audio technology and unrivaled design to bring a true sound experience to the most discerning of music lovers. A forged aluminum design complements supple leather headband and over-ear cups. Accurate sound is produced through a 50mm driver tuned to the exacting standards of Velodyne's trademarked low-distortion bass reproduction.
Put the "boom" anywhere in the room with Velodyne's Wireless Wi-Q® 10-inch and 12-inch subwoofers. Dubbed "The Smart Sub," the Wi-Q is the culmination of three decades of leadership in subwoofer technology and is affordable, powerful and feature-rich. With no clumsy wires, it can be quickly integrated into any entertainment system – in any location within 50 feet (15 m) – or concealed in custom cabinetry.
"Velodyne's wireless Wi-Q subwoofers put the boom anywhere you want in a room by eliminating awkward cables that limit optimal placement of a subwoofer and maximize bass performance," said Hall. "You'll get incredible output, stunning impact and deep-bass performance no matter where you place it."
About Velodyne
Founded in 1983 and based in California's Silicon Valley, Velodyne, Inc. is a diversified technology company known worldwide for its high-performance audio equipment and real-time LiDAR sensors. The company is widely recognized as the leading manufacturer of high-performance, low-distortion, powered subwoofers and an expanding line of technically innovative in-ear and over-ear audio products, which include interchangeable, custom-designed skins that enable audiophiles to personalize the look of their headphones. Velodyne products are available online at http://www.velodyne.com and from a select group of authorized dealers, custom installers and distributors worldwide. Since 2007, Velodyne's LiDAR division has emerged as a leading developer, manufacturer and supplier of real-time LiDAR sensor technology used in a variety of commercial applications including autonomous vehicles, vehicle safety systems, 3D mobile mapping, 3D aerial mapping and security. For more information, visit http://www.velodynelidar.com. For the latest information on new products and to receive Velodyne's newsletter, visit http://velodyne.com/sxsw.