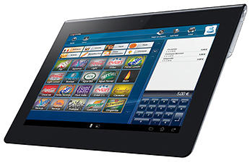 Glendale, CA (PRWEB) March 13, 2014
USAePay recently welcomed HioTablet, a Windows tablet point of sale system for restaurants and retail businesses, to integrate with their secure payment gateway. Manufactured by ICG Software and distributed by AgentPOS, the HioTablet is an easy to install template rich point of sale system serving the restaurant and retail industries. HioTablet is unique in the fact that it does not charge any monthly software fees.
The new HioTablet utilizes HioPOS terminal software on a Windows tablet and can be used as a stand-alone point of sale system, or interface with the HioPOS 15" all-in-one terminal. The tablet contains 17 built-in templates covering a variety of restaurant and retail businesses including a guide for a bakery, bar, yogurt shop, sushi restaurant, supermarket, liquor store and more. Tablet and terminal set-up is simple and self-installable with the built-in help wizard and can be used with USAePay processing platforms including First Data, Global Payments, Paymentech, and TSYS.
Integrating with USAePay provides many benefits to point of sale systems looking for a secure payment gateway solution. Advantages to using the secure USAePay Level 1 PCI Compliant payment gateway include live customer service, fraud tools, recurring billing and inventory management tools.
For more information on the HioTablet POS system visit http://www.hiopos.com. To learn more about payment gateway integration capabilities with USAePay, visit http://www.USAePay.com.
About USAePay: USAePay is a family-owned business based in Los Angeles, CA. For over 15 years, the company has been assisting merchants with payment solutions to fit their needs. USAePay's payment gateway supports most of the major platforms in the credit card industry and works with some of the leading check platforms. USAePay is pleased to work with most of the larger merchant service banks in the US and Canada. For more information, please visit http://www.usaepay.com or call 866.USA.EPAY (872-3729).
About ICG Software/HioPOS: ICG Software, formed in Lleida, Spain, is a worldwide company with installations in over 60 countries. For 30 years, the company has been a leader in restaurant, retail, and hotel software and POS development. To date, ICG Software products have been translated into 14 different languages and are sold through a network of dealers in 17 countries around the world. For more information, please visit http://www.icgsoftware.us http://www.hiopos.com or call 888.561.1235.