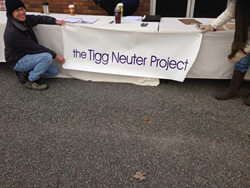 I was sick and tired of knowing so many cats and dogs were being euthanized in Cobb County, so I started the spay and neuter project.
Marietta, GA (PRWEB) March 11, 2014
The Marietta dentists, Marietta veterinarian and staff at Verde Pointe Professional Park have a huge heart for local shelter animals. That's why they've decided to celebrate St. Patrick's Day hosting a drive for the Tigg Neuter Project and shelter pets of Cobb County. The professional offices will offer St. Patti Cookies tied with a green bow in lieu of a donation to spay and neuter Cobb shelter pets.
Vicki Hammonds, founder of Trigg Neuter Project is thrilled to be the recipient of the event. "I was sick and tired of knowing so many cats and dogs were being euthanized in Cobb County, so I started the spay and neuter project," says Ms. Hammonds. She is an animal advocate that has stood up to make a difference for the animals she loves. The project needs donations and veterinarians to help with the surgeries and animal care.
Ms. Hammonds has organized a community spay and neuter effort that targets low-income and high animal control turn in areas in Cobb County. The animals are spayed or neutered and given basic vaccinations. The Tigg Neuter Project also passes out food and other needed pet related items for needy animals. Donations are not required to receive care, but accepted. It is the Tigg Project's goal to lessen the overwhelming number of unwanted animals at the Cobb County Animal Control.
Kirk Kimmerling, DDS, Suzanna Aguilera, DMD and Garrick McGrath DMD are Marietta cosmetic dentists and Marietta emergency dentists that are literally paving the way for the future of dentistry. The office is technologically sophisticated in not only equipment and procedures, but also developing dental materials via Kimmerling Holdings Group, LLC and fiteBac SkinCare, LLC, Dr. Kimmerling's biotechnology firms. The office maintains 13 dental operatories, each of which is equipped with a display monitor on which digital x-rays and intra-oral pictures can be examined, and patient education videos can be viewed. The office also employs highly advanced technologies, including: (1) Logicon, a program that can digitally measure the extent of tooth decay, which allows detection of 20% more cavities and helps prevent misdiagnosis; (2) "Collimators," a conduction of x-ray tube heads that decrease radiation exposure to the patients and staff by 5-fold; and (3) 3Shape Trios digital scanner, an advanced restoration impression system and digital scanner that produces more accurate restorations than traditional methods. The office is the first to use fiteBac SkinCare Germicidal Hand Softening Gel, an advanced hand sanitizer without the harshness to skin from traditional alcohol-based hand sanitizers. Drs. Kimmerling, Aguilera and McGrath invite new patients with a $100 coupon to meet their exceptional staff and experience and benefit from state of the art dental care. The office offers a broad range of services from teeth cleaning, teeth whitening, Zoom! teeth whitening to dental veneers and Marietta root canal, dental implants, root canal therapy, dental veneers, dental extractions, and toothaches Marietta, GA.
Marietta Vet Clinic and veterinarian, Julian Peckich DVM are pleased to welcome dogs and cats to the pet clinic, dog clinic and cat clinic. Dr. Peckich provides veterinary services for the Marietta, Kennesaw, Dallas, Acworth, and Powder Springs, GA. It would be their great pleasure to welcome dogs and cats to the pet family for cat vaccinations, dog vaccinations, pet vaccinations, rabies shots, sick animal relief, laboratory testing, pet teeth cleaning, veterinary dentistry, wellness exams, spay and neuter clinic and mobile veterinary services.