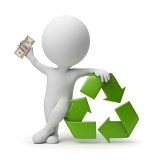 MinuteHound's thin client technology addresses cutting-edge changes taking place in information technology today.
New York, NY (PRWEB) March 13, 2014
MinuteHound, an enterprise software developer known for its cloud-based time clock application, has announced plans to make its flagship product easier than ever to deploy worldwide.
MinuteHound is a leader in the design of innovative solutions to prevent "time theft." Time theft happens when employees come in late, leave early or engage in other behaviors that cause them to be paid for time when they are not working. Experts estimate that time theft costs businesses worldwide more than $1 billion each year.
Impacting more than 150,000 active users around the globe each work day, MinuteHound software is estimated to have saved companies millions. Now, MinuteHound is taking the next step to make its software more accessible to small businesses and multinational corporations alike.
Although most customers find it only takes a few minutes to install and activate MinuteHound, sources within the company acknowledge that the technological landscape is changing fast. With this in mind, MinuteHound has announced a new "thin client" initiative.
MinuteHound's thin client technology addresses cutting-edge changes taking place in information technology today. Recognizing that corporate networks will increasingly be made up of a complex patchwork of desktop and mobile devices, the MinuteHound thin client will be fully compatible with virtually any Internet-connected computer.
The MinuteHound thin client is expected to be an effective solution for large enterprises. An informal survey of MinuteHound customers suggests one of the software's most valuable features is its ability to disseminate real-time attendance information to stakeholders located anywhere in the world. The thin client will make it even easier for executives to uncover attendance issues and respond to them during business travel.
Experts warn that up to 10 percent of payroll costs may be associated with time theft. For this reason, it is imperative to implement effective attendance policies early in an organization's life. Complicated attendance policies can reduce morale and result in lost time on a daily basis. Conversely, policies that are too lax may result in workers taking advantage of the situation.
For dozens of enterprises in the United States and worldwide, MinuteHound represents a promising middle ground that often costs only pennies per day to implement. As the first company to provide its customers with a simple way to deploy biometric attendance tracking, MinuteHound stands to become an industry leader.
MinuteHound executives expect a surge in market interest as more companies discover ways to leverage the innovative new thin client. To ensure that they can receive immediate service, potential customers are urged to contact MinuteHound right away.
MinuteHound Contact Information
Website: http://www.MinuteHound.com
Email: info@MinuteHound.com
Phone: (800) 351-7237