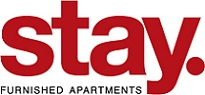 "Stay Furnished Apartments took their company name and made it a brand," says Mary Ann Passi, CAE, CHPA CEO.
Charlotte, NC (PRWEB) March 07, 2014
Stay Furnished Apartments is honored to receive a 2014 Tower of Excellence Award from the Corporate Housing Providers Association (CHPA) – the Most Creative Marketing Award.
The Tower of Excellence and Most Creative Marketing Awards recognizes an outstanding marketing program or concept that had a measurable impact on the corporate housing side of your business. "Stay Furnished Apartments took their company name and made it a brand," says Mary Ann Passi, CAE, CHPA CEO. "Their concept that everything they do should be reflected in their company name was innovative and fresh."
"It is a tremendous honor to be recognized by the Corporate Housing Providers Association for this award." said President & Founder Scott Remmel. "Winning this award after our first year of launching Stay Furnished Apartments has been a confirmation of a company name and brand that captures the essence of what we provide as an industry."
"These awards help us showcase how CHPA companies impact and improve the overall corporate housing industry," says Mary Ann Passi. "CHPA's mission, simply put, is to help members succeed. It is encouraging to see many of our member companies doing extraordinary things while growing their business and giving back to their communities." The CHPA Tower of Excellence Awards has increased its prestige since the first presentation in 2002. Each year, more nominations are submitted to be judged by an unbiased panel of association and marketing professionals. The nominations are scored against the criteria outlined for each award.
The Corporate Housing Providers Association (CHPA) is a professional trade association exclusively dedicated to supporting corporate housing providers around the world. More than 220 companies worldwide currently belong to CHPA. Additionally, there are more than 50 member companies around the globe that offer goods or services to the industry as invaluable partners to the industry's success.
About Stay Furnished Apartments
Stay Furnished Apartments provides corporate travelers and individuals something more than a cookie-cutter, lowest-common-denominator approach to corporate housing. Our fully furnished apartments are distinguished by their upscale furniture and housewares in prime locations. They also provide a relaxing, retreat for business travelers on short-term assignments, out-of-town visitors or anyone desiring an authentic experience. Through its association with GO Furnished Housing Providers, STAY seamlessly provides clients with services covering local, national, and international destinations.
For more information:
STAY Furnished Apartments
1867 Scott Futrell Drive
Charlotte NC 28208
704.392.9977
http://www.stayfurnished.com
stay.informed(at)stayfurnished.com