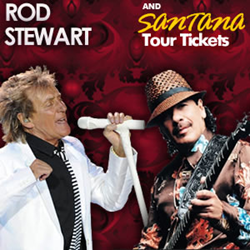 Chicago, IL (PRWEB) March 07, 2014
Rod Stewart and Santana team up together on a one-off tour called The Voice, The Guitar, The Songs. English-born, Stewart experimented with rock, folk, and blues throughout the 60's and early 70's - performing with avant-garde acts like The Jeff Beck Group and The Faces. But with the release of his 1971 solo album, Every Picture Tells a Thousand Words, Stewart found his niche; Maggie May, Mandolin Wind, and Reason to Believe showcased his incredible vocal range, from raspy tenderness to soulful power. He followed up with a series of chart-topping ballads in the UK and US like You Wear it Well, Sailing, Tonight's the Night (Gonna Be Alright), and the disco hit Do Ya Think I'm Sexy? He continued releasing hits throughout the 80's, like Young Turks, and Downtown Train; with Sting and Bryan Adams, he had another worldwide smash with 1993's All For Love. His most recent album, 2013's Time, debuted at number one on the British charts.
Mexican-born, Carlos Santana learned to play the guitar when he was only eight years old. He formed the band Santana in his teens, infusing rock, blues, and jazz with a unique Latino sound. Santana's set at Woodstock in 1969 exposed them to a broader audience - sending their second album, Abraxas, to number one in the United States. They had a string of hits in the 70's, like Black Magic Woman, Oye Como Va, and She's Not There. After a lull in the 80's and 90's, Santana returned with 1999's Supernatural, which topped album charts around the globe, spawned two number one singles in America, Smooth and Maria Maria, and won nine Grammy Awards. To watch one of the world's greatest voices perform with one of the world's greatest guitarists, buy Rod Stewart And Santana concert tickets now!
Important Rod Stewart and Santana tour dates on sale today include:
Pittsburgh PA May 27, 2014 Consol Energy Center
Buffalo NY May 31, 2014 First Niagara Center
Englewood CO August 12, 2014 Fiddlers Green Amphitheater
Rosemont IL August 16, 2014 All State Arena
Wantagh NY August 20, 2014 Nikon Theater
This weekend the All State Arena hosts Miley Cyrus Friday and George Strait on Saturday. Major upcoming outdoor shows would be the two One Direction concerts at Soldier Field and the Billy Joel Wrigley Field concert. In addition to these major outdoor performances, look for Justin Timberlake tickets, Paul Simon and Sting, Lady Gaga, and Kings Of Leon United Center concerts. NHL fans can see Chicago Bulls games or Blackhawks games at the United Center too.
RodStewartAndSantana.com in association with Tickets-Cheapest.com operates in the ticket resale market, similar to sites concert fans may be familiar with. When looking for tickets to sold out concerts or for premium tickets like floor seats, Tickets-Cheapest.com can prove to be the best bet. Try a comparison including the ticket price as well as services fees; like always, recent tests proved Tickets-Cheapest.com emerged the lowest once again.
Buy seats now and pay less at RodStewartAndSantana.com from TicketsCheapest.com where price surveys prove fans will find seats cost less than other resale sites including ticket prices that beat Stubhub.
About Financial Firebird, Rod Stewart And Santana and Tickets Cheapest
The sites with special software to find the cheapest concert tickets online are affiliated with the Financial Firebird Corporation Travel Group. Financial Firebird Corporation, established in 2000 and a proud BBB member, provides unbiased consumer information particularly involving personal unsecured debt or mortgages, software and marketing services. These sites for consumers to buy tickets online operate in the resale market and maintain no relationship with the venues or performers. The resale ticket market allows consumers access to popular events once the box office has sold out or to buy premium seats when the venue no longer offers any inventory. Within the group of these secondary market ticket services the Financial Firebird owned ticket sites offer lower prices than competitors. Find the sites at RodStewartAndSantana.com and Tickets-Cheapest.com.