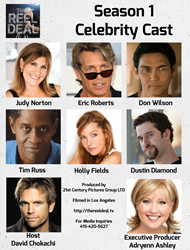 We finally have the technology to implement a truly sync'd second screen experience and create interactivity, combining aspects of gaming into reality tv.
Los Angeles, CA (PRWEB) March 06, 2014
The Reel Deal, a multi-platform reality television show which will span across social media, mobile, web and traditional television distribution platforms, has just disclosed the long-awaited list of celebs that will join the first season. Big name actors, directors and athletes will take the stage to mentor and collaborate with groups of aspiring actors, directors, composers and screenwriters. Celeb-led teams will prove their talent during an intense one-week of filming Academy-worthy shorts, all while under competitive pressure to finish first and best!
As of yet, the reality TV world has not been able to feature acting talent. With more than 3 times as many aspiring actors as aspiring singers, and more than 6 times as many than aspiring dancers, The Reel Deal will fill a gap in reality television through an innovative and interactive competition model that draws from its indie-filmmaking roots. As Executive Producer Adryenn Ashley explains, "We finally have the technology to implement a truly sync'd second screen experience and create interactivity, combining aspects of gaming into reality tv, all while showcasing the number one dream job - acting."
The celebrity cast: [in alphabetical order]
Dustin Diamond
Diamond is most well-known for his role as Screech Powers—everyone's favorite nerd—which he brought to life for no less than six titles over the course of twelve years. The most prominent title, Saved by the Bell, may be considered to be synonymous with childhood in the early 90's. In addition to acting, Diamond is a seasoned director, writer, producer, and stand-up comedian.
Holly Fields
A prolific child-star, Fields was presented with two Youth in Film awards for "Best Newcomer" and "Best Female Guest Star." She appeared in more than 16 titles over a span of two years, from 1988-1990, including MacGyver, A Brand New Life, ALF, and Growing Pains. Fields also spent time touring the world singing in her Japanese based all-female group: "Zoom." Currently, Fields is an active voice and film actor. When she's not acting, she's producing her own projects.
Judy Norton
Best known for her role as Mary Ellen on The Waltons, Judy Norton has had a prominent acting career that spans more than four decades with appearances in more than thirty titles. As a sought after stage actress she has directed/produced/starred in multiple productions at the same time. She is also an acclaimed director, writer and producer with experience in a fast-paced production environment. Her diverse experience and skillset will be indisputable assets on the set of The Reel Deal.
Eric Roberts
Oscar-nominated Eric Roberts –best known for his roles as former CIA agent James Munroe in The Expendables, and Gotham City's crime boss, Salvatore Maroni, in The Dark Night—is in the height of a highly prolific entertainment career. He's appeared in nearly three-hundred titles to-date and has more than fifty titles in production.
Tim Russ
Best known for his role as Lieutenant Commander Tuvok on Star Trek: Voyager, Tim Russ brings a wealth of talent and experience to the set of The Reel Deal. Acclaimed for his dynamic skillset, Russ is a prolific actor, director, and screenwriter. He has recently appeared in recurring roles on both Christina Applegate's comedy, Samantha Who?, and acclaimed Nickelodeon show, iCarly.
Don "The Dragon" Wilson
A world-renowned kickboxing champion, Wilson's athletic career spanned four decades and earned him 11 world championships. The athlete-turned-actor has appeared in nearly forty films, and is a sought-after stuntman. He has also produced nearly twenty films (all profitable), making him a dynamic mentor for his team on The Reel Deal.
And Host, David Chokachi
Adored by fans for bringing to life the role of Cody Madison in Baywatch, and for playing Detective Jake McCarty in the Witchblade television series, Chokachi is a seasoned performer and mediagenic entertainer. His career spans widely across television and film with a number of titles currently in production as well as his philanthropic work with the Surfrider Foundation. His energetic and comedic personality promises to bring life and charisma to viewers and contestants on The Reel Deal.
The show was created by award winning indie movie producer Adryenn Ashley. A former actress herself who transitioned to behind the camera after a serious fall on the movie I Know What You Did Last Summer. Not one to be sidelined even in a cast for 18 months and unable to walk unassisted for 6 years, she used her industry contacts and knowledge to produce the award winning feature film METAL in 1999. Now back in front of the camera as a tv host, pundit and popular commentator, after her first book, Every Single Girl's Guide to Her Future Husband's Last Divorce went viral, Ashley has developed an online social media following that positions her, and The Reel Deal, to achieve the next level of reality entertainment – multiplatform execution with viral fan engagement.
The show films this summer in Los Angeles and airs nationwide this fall.