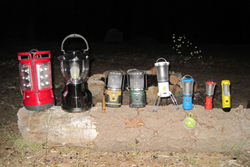 Why buy a lantern instead of just a headlamp? Unlike headlamps, they provide a 360 degree central lighting source.
Cheyenne, Wyoming (PRWEB) March 07, 2014
OutdoorGearLab.com's Gear Review Editors took with them nine of the industry's best examples for half a year while adventuring along the California coast in order to determine the winners of this Top Lantern review. Each one was tested and scored according to its features, ease of use, brightness and how easy it was to use. The following award winners reflect the best overall product and the best value for your money and the best option for lightweight backpacking excursions.
The winners include:
The Editor's Choice award goes to the Black Diamond Apollo for being the overall best product. "It has a lot of cool features like tripod style legs and helpful hooks for easy positioning. It's easy to use and held up well after lots of use. It is not the brightest we tested but its light is more than sufficient. Extremely versatile whether we were pitching camp, cooking dinner, reading in a tent or using it as a back up when a power outage occurred, this product excelled," stated Gear Editor Devon Chance.
Best Buy award was granted to the Rayovac Sportsman for earning high scores on the review testing while still being a budget conscious option. Gear Editor Chance clarifies, "It's extremely efficient design is simple to use, store and carry, that and the lumen numbers come in at 240 so this baby can really light up your life."
The Top Pick award winner, the Black Diamond Orbit earned its award by being the best portable lightweight option. Chance explains, "It's great for one or two persons, not for lighting entire campsites. Would be a smart option for backpacking, emergency kit and glove box."
Out of Cheyenne, Wyoming and dedicated to producing the worlds finest reviews of outdoor gear, OutdoorGearLab LLC is a free website resource for those who enjoy hiking, camping, backpacking and climbing. Specializing in reviewing outdoor gear side-by-side and publishing the results in complete comparative reviews, products are judged according to specific categories, the competition is ranked and top performing products are awarded.
More reviews available at OutdoorGearLab.