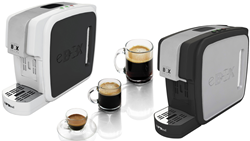 The eBOX, the first Single Serve Pod Machine that brews both coffee and espresso from eco-friendly pods is ready to go on indiegogo!
Narragansett, RI (PRWEB) March 07, 2014
Now you can have a clear conscience and get the best cup of coffee and espresso with the single-serve convenience! PODhead.com, the online retailer of coffee and espresso pods since 2003, has introduced the eBOX, their first single serve pod machine that can brew both coffee and espresso from eco-friendly pods. The eBOX uses pods encased in 100% biodegradable, non-bleached paper leaving no unnecessary environmental waste versus the competition's non-recyclable plastic encased cups. Gianni Spinazzola, at PODhead.com, has made it his goal to put a halt to the billions of plastic and aluminum single serve coffee containers that are accumulating in landfills and posing significant environmental challenges.
The eBOX campaign was launched on indiegogo on March 4th, 2014 at the introductory price of $119.00. The eBOX indiegogo campaign will run until April 25th. Spinazzola's vision of the eBOX came about as he realized the unrelenting irresponsibility of certain single serve coffee companies and the assortment of machines they produce that only work with their specifically designed plastic or aluminum pods. The eBOX, with a two-year warranty, is built to last, with commercial grade standard technology. It offers the consumer a superior cup of espresso or coffee with more brewing choices at a very competitive price. Spinazzola states, "This machine is the first counter top coffee and espresso pod system of its kind and we welcome the competition…the pod competition that is." Aside from the ease of quickly making a great cup of espresso or coffee from an espresso or coffee pod, the eBOX offers a much larger water tank capacity with pour-over convenience, it has a practical start/stop single button control, it adapts to the various espresso pods currently offered in the marketplace, and because of its greater 19 bar pump water pressure capability, it delivers a superior coffee extraction at the perfect temperature.
A few years ago, Spinazzola recognized that the coffee market was in desperate need of a dependable, environmentally friendly single-serve pod-brewing machine for both coffee and espresso. "We put a team together and have been working on creating the e-BOX single-serve espresso and coffee brewing system for over two years, and now we can say that we have a beautifully designed and extremely functional single serve coffee machine that will extract the best espresso or coffee out of an E.S.E. espresso pod or coffee pod. Coffee drinkers can now simply enjoy their coffee the way it is supposed to be without the guilt. It is more than just a coffee machine, we have crafted a timeless double standard brewing machine." Spinazzola is extremely concerned about negative impact that plastic single serve coffee cartridges have on the environment. "The billions of single-serve plastic containers that are sold every year are bound to create a tremendous amount of harm to our environment. More importantly, even though the plastic is polypropylene, a less-toxic plastic, there is growing evidence that when subjected to heat, all plastics leach chemicals that can interfere with hormonal development."
A native of Milano, Italy, Spinazzola, appreciates a great cup of coffee and understands why today's coffee drinkers love the convenience of the single cup coffee making. However, the feedback he receives from concerned customers in regards to their experience with plastic and aluminum cartridges, aside from the poor tasting coffee, is that recycling is not only nearly impossible, it really has become a nuisance.
As the mountains of plastic waste amass so does the escalating guilt. PODhead.com believes that with the ever-growing population of single serve coffee drinkers, each and every one of us is responsible for helping to relieve this ecological problem.
Spinazzola asserts that all the initial work is done. They have their prototypes and they are ready to start to mass-produce the machines. If all goes according to plan, the eBOX should be ready to be shipped by the end of July 2014. Coffee drinkers throughout the world will be able to enjoy a great cup of coffee or espresso while in the comfort and convenience of their homes or offices, while promoting a greener living.
About PODhead.com, LLC
Based in Narragansett, Rhode Island, PODhead.com launched its privately owned internet based retail business in 2003 to provide espresso pod customers with a large variety of the freshest, highest quality E.S.E. espresso pod products around at the best prices. PODhead.com has become the leader in providing alternative gourmet paper filter coffee pods to the ever-growing single serve coffee pod movement. Brands and products sold at PODhead.com include their very own Sensation®, Arabica Express® coffee pods and Cremissimo® espresso pods, all master roasted and produced in the United States. In addition, PODhead.com carries a variety of espresso pods from reputable Italian coffee producing companies such as Caffe Pera, Bristot, Compagnia dell'Arabica, Miscela d'Oro and Lavazza.