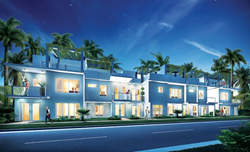 Landmark is a traditional neighborhood design setting with a new urban twist.
Doral, FL (PRWEB) March 08, 2014
Lennar's newest community in Doral, Landmark, recently opened its model homes to the public. This "cosmo chic" community offers contemporary design while delivering modern technology and exclusive amenities. For sophisticated and affluent homebuyers with a modern flare, Landmark is a traditional neighborhood design setting with a new urban twist that promotes outdoor activity in community parks, in addition to nearby shops and restaurants.
The Landmark community is comprised of more than 800 modern architecturally designed homes in seven different styles, ranging from contemporary condos to 2-3 story townhomes. The 2-story townhomes include 3-4 bedrooms, 1-2 car garages and Next Gen home design plans. The 3-story townhomes include 3-4 bedrooms, 2 car garage, elevator access and the availability to add the Sky View Terrace. The 3-story multi-family condo has an open 3 bedroom flat with private courtyard on the first floor rising to a 2-story over-flat with 2-3 bedrooms, 2-3 bathrooms and a private 1 car garage.
Lennar's Next Gen for multi-generational homeowners with adult children or elderly parents to live in the same household. Landmark's 2-story townhomes with Next Gen design include a private suite with its own separate entrance attached to the main home -- including a great room, bedroom, bath and kitchenette large enough for a full-size refrigerator, microwave, dishwasher and sink. Connecting doors are integrated into the main living area of the home and may be kept locked to function as a private residence. The exclusive Sky View Terrace and summer kitchen options are also available.
Residents of Landmark will enjoy the expansive community clubhouse with a fitness and resort-style pool. Located in the heart of Doral, residents are issued the benefits of on-site amenities, nearby schools, shopping, dining and famed Trump International Resort and Spa.
Visit the Lennar Welcome Home Center at NW 66th ST and 107th AVE., Doral, FL. Open daily from 10 a.m. to 6 p.m. For more information, call (305) 230-1008. You may also find information on http://www.lennar.com/floridadeals.
Lennar Corporation, founded in 1954, is headquartered in Miami and is one of the nation's leading builders of quality homes for all generations. Lennar is South Florida's #1 Homebuilder, based on home closings with new home-buyers. Lennar builds affordable, entry and move-up homes in communities that cater to almost any lifestyle – such as urban or suburban communities.