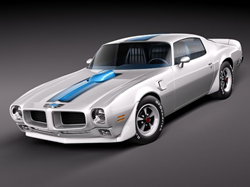 ...the original mark of quality when it comes to restoration accessories and parts
Monroe, GA (PRWEB) March 07, 2014
Firebird fanatics looking to restore their early 1970s classic car can rejoice now that trusted restoration parts manufacturer Goodmark Industries has premiered three new long-awaited products for the 1970-1973 Firebird.
The first product is a front steel valance for the 1970-1973 Pontiac Firebird. Until now, the valance on early 1970s Firebirds could only be replaced with a new old stock (NOS) part, a used part, or a new plastic part. With the introduction of Goodmark Industries all steel reproduction, restored Firebirds can now have a steel valance identical to the factory original.
The second product is a rear bumper bracket set for the 1970-1972 Firebird. Designed to hold the bumper up to the car's body, Goodmark Industry's six-piece rear bumper bracket set ensures that restored rear bumpers on Firebirds will stay in place. "We offer products that help classic car enthusiasts restore their ride and their passion," said Goodmark representative Tony Pascale. "The rear bumper bracket is just another way we help classic car aficionados accomplish their goals."
The third new product announced by Goodmark Industries and available in April 2014 is the full factory quarter panels for the 1970-1973 Firebird. Common problems in classic Firebirds include rotting sail panels and doorjambs. Now those decaying pieces can be replaced with full OE-style quarter panels. Offering complete coverage to all factory seams, Goodmark Industries' full quarter panels completely replace old quarter panels – including doorjambs and sail panels.
Goodmark's commitment to high quality restoration parts and knowledgeable customer support staff make the company a success. "We are the original mark of quality when it comes to restoration accessories and parts," said Pascale.
About Goodmark Industries
Goodmark has been producing car and truck restoration parts since 1991. In response to the growing interest of classic cars and trucks, Goodmark began more than 20 years ago to offer high quality trim and sheet metal for difficult to restore classics like Chevrolet Camaro's, Chevelle's and Nova's as well as a host of other classics cars and trucks from GM, Ford and Mopar. Rather than let classic car and truck hobbyists sift through crashed parts, Goodmark provides new parts for the classics restoration industry. For more information, visit http://www.GoodmarkIndustries.com.