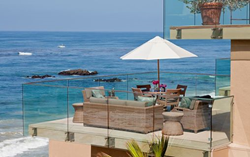 We are thrilled to partner with a resort that also prioritizes customer experience and realizes just how special the proposal moment is for the couple.
Los Angeles, CA (PRWEB) March 07, 2014
Robbins Brothers, The Engagement Ring Store known for providing customers with personalized service, detailed education and an extensive selection of loose diamonds, engagement rings and wedding bands, has engaged with Surf & Sand Resort in Laguna Beach, CA to offer hopeful grooms or future brides a chance to win a proposal package of a lifetime valued at $1300.
Enter for your chance to win a "Dream Proposal Getaway" package by visiting any Robbins Brothers store location in California from March 6 through March 30. Contestants will be asked to describe their dream proposal ideal and give details on why the one they love deserves a proposal moment at the luxurious Surf & Sand Resort in Laguna Beach.
The entries will be judged on three criteria: narrative quality, originality, inspirational tone/emotional impact. The sweepstakes is subject to Robbins Brothers' "Dream Proposal Getaway" contest's Official Rules which can be viewed at http://engaged.robbinsbrothers.com/proposal-getaway.
In addition to the "Dream Proposal Getaway" sweepstakes, Robbins Brothers will also provide all customers who purchase an Echo Diamond during March with a gift voucher for complimentary drinks or desserts at Surf & Sand.
"We are always looking for moments to enhance our customers' ring shopping experience as well as their marriage proposal," said Larry Gomperts, executive vice president of marketing and strategic planning for Robbins Brothers. "We are thrilled to partner with a resort that also prioritizes customer experience and realizes just how special the proposal moment is for the couple."