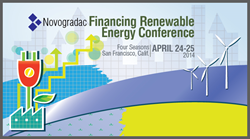 San Francisco (PRWEB) March 06, 2014
The renewable energy development community is facing a crucial period of emergence and innovation to bring new financing vehicles to the forefront of today's marketplace that will surely shape tomorrow's renewable energy arena. Meanwhile, the future of key government subsidies such as the investment tax credit, production tax credit and other tax provisions is up for debate as lawmakers continue to work toward comprehensive tax reform.
Renewable energy professionals will gather at the Novogradac Financing Renewable Energy Conference in San Francisco, Calif. on April 24-25, 2014 to network and discuss the current state of the renewable energy industry. The two-day conference at the Four Seasons Hotel will feature panels of developers, investors, lenders, attorneys, accountants and other industry professionals who will discuss the latest industry issues, including the latest financing strategies, the need to attract new investors to renewables and the latest in development issues and business strategies. The two-day conference is worth 8 Continuing Professional Education (CPE) credits.
"With many exciting changes and challenges on the horizon for the renewable energy industry, it is crucial for us to come together and discuss innovative ways we can meet our country's growing demand for clean energy," said Stephen Tracy, CPA, conference chairman and partner in Novogradac & Company LLP's San Francisco office. "This conference will give renewable energy professionals an opportunity to network with other industry professionals and make important connections with decision makers while getting the critical up to date information and insight they need to get their transactions to the finish line and continue the industry's impactful work creating a clean energy future for our country."
Attendees will have ample opportunity to network with more than 200 renewable energy professionals, including active institutional tax equity investors, project developers, lenders and many other industry professionals and participants, during the numerous session breaks and a cocktail reception held on Thursday, April 24 from 5 p.m. to 6:30 p.m.
The Novogradac Journal of Tax Credits will also hold a luncheon for the inaugural Renewable Energy Power Awards on Thursday, April 24. The awards will be presented to development teams with the most effective and innovative renewable energy tax credit projects in terms of positive job creation, community impact and reducing energy footprint. Award-winning projects were placed in service in 2012 and 2013 and will be recognized in three categories: financial innovation, overcoming obstacles and small community project.
A pre-conference workshop, Principles of Renewable Energy Tax Credits, will focus on the latest transaction structures, project modeling and structured finance principles. The workshop will be held on Wednesday, April 23. Pre-conference workshop registration is separate and optional. Additional fees apply.
The Novogradac Financing Renewable Energy Conference is co-hosted by Chadbourne & Parke LLP, Dentons and Nixon Peabody. Sponsors include Dudley Ventures, Polsinelli, Global X, Ballard Spahr LLP and Sol Systems.
Conference details and the complete conference agenda can be found at http://www.novoco.com/events/conferences/retc/2014/san_francisco/index.php.
Novogradac began operations in 1989, and the allied group of Novogradac companies has since grown to more than 500 employees and partners with offices in San Francisco and Long Beach, Calif.; the Washington, D.C., Atlanta, Ga., Detroit, Mich., Kansas City, Mo. and Seattle, Wash. metro areas; St. Louis, Mo., Boston, Mass.; Austin, Texas; Dover, Columbus and Cleveland, Ohio; New York, N.Y.; and Portland, Ore. Specialty practice areas include tax, audit and consulting services for tax-credit-assisted multifamily and affordable housing, community revitalization and rehabilitation of historic properties. Other areas of expertise include military base redevelopment, preparation and analysis of market studies and appraisals of multifamily housing investments and renewable energy tax credits.
For more information about Novogradac & Company LLP's Financing Renewable Energy Conference, please contact Teri Baker at (415) 356-7995 or by email at Teri.Baker(at)novoco(dot)com.