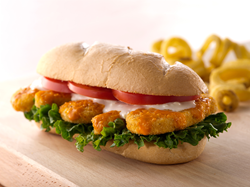 Oklahoma (PRWEB) March 06, 2014
Buffalo Chicken Sandwiches with Buttermilk Blue Cheese Dressing
1 (24-ounce) package Fast Fixin Chicken Breast Strips
1/3 cup Hiland Butter, melted
½ cup Buffalo-style hot sauce
6 sub sandwich buns, toasted
Lettuce, tomato, pickle
Bake chicken at 400 degrees for 10-15 minutes, according to package directions. Meanwhile, combine melted butter and hot sauce in a shallow bowl. Once chicken is out of oven, place it in the butter mixture, turning to coat.
Place five chicken strips on each toasted bun. Top with Buttermilk Blue Cheese Dressing and lettuce, tomato and pickle, if desired.
Buttermilk Blue Cheese Dressing:
1 cup Hiland Buttermilk
1 cup Garden Club mayonnaise
1 cup crumbled blue cheese
½ teaspoon Worcestershire sauce
¼ teaspoon black pepper
1/8 teaspoon garlic powder
Whisk together buttermilk, mayonnaise, Worcestershire sauce, black pepper and garlic powder. Stir in blue cheese. Cover and chill until ready to use.
Fish Filet Sandwich with Suan's® Scotch Bonnet Mango Lemon Glaze
Fish filet of firm white fish such as cod
Suan's® Scotch Bonnet Mango Lemon Fruit Butter
Garden Club® Mayonnaise/Suan's® Scotch Bonnet Flavor Sauce dressing
Hiland Dairy® Butter
Olive oil
Lemon juice
Whole wheat bread
Deli coleslaw
Prepare whole wheat bread by combining equal parts of Hiland Dairy® butter and olive oil, brushing both sides of wheat bread with butter/olive oil. In heavy skillet heated to medium heat, toast bread, turning once. Remove from skillet.
Wipe fish with damp paper towel, quickly 'wash' with fresh squeezed lemon juice, wipe-off. In heavy skillet which can be transferred to oven, add enough olive oil to just cover bottom of skillet that you have toasted the bread, heat skillet to medium high, add fish filets, brown and turn once, spoon on Suan's® Scotch Bonnet Mango Lemon Butter to glaze, continue to cook, just before done, place under broiler until Mango Lemon Fruit Butter is bubbling. Remove; keep warm until sandwich is assembled.
To assemble sandwich spread Garden Club® Mayonnaise and Suan's® Scotch Bonnet Flavor Sauce dressing on each slice of toasted bread. On first slice of bread, add coleslaw, top with fish, cover with second slice of toasted wheat toasted bread. Cut in-half and serve warm.
German Chocolate Pie Brownies
1 Field's German Chocolate Pie, thawed
2 (8-ounce) packages Shawnee Mills Fudge Brownie Mix
1/3 cup vegetable oil
1 tablespoons water
2 eggs
Remove pie from pie pan and place on a cutting board. Cut into 1 to 2-inch chunks.
In a large bowl, combine brownie mix, vegetable oil, water and eggs. Mix by hand until thoroughly combined. Fold in pie pieces, being sure to mix but not crush the pie crust. Place batter into prepared 9" X 9" baking pan.
Bake at 340 degrees for 30 to 35 minutes. Cut into squares. Delicious topped with whipped Hiland Heavy Whipping Cream.
###
The Made in Oklahoma Coalition (MIO) is a state-run group that represents more than 40 Oklahoma food and agricultural manufacturers, who employ over 20,000 Oklahomans statewide. MIO's mission is to promote brand awareness and consumer loyalty for Oklahoma food and agricultural products. This is accomplished through collective marketing for the purpose of increasing sales, maintaining business retention and expanding Oklahoma's food processing sector. MIO, Good for Oklahoma. Good for you. For more information visit http://www.miocoalition.com.