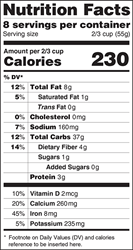 I think the changes to portion size will have an eye-opening effect.
Williamsport, PA (PRWEB) March 07, 2014
While the U.S. Food and Drug Administration's (FDA) recently proposed changes to national nutrition labels will be open for public comment for the next three months, Susquehanna Health (SH) Clinical Dietitian Michelle Underwood already embraces the changes as valuable to improving lives while reducing obesity and healthcare costs.
Changes to the format and content of the labels would make the calorie count and servings per container more prominent while providing more realistic serving sizes, updating the daily values, including added sugars and listing Vitamin D and potassium among the required nutrients.
"I'm very excited about the proposed changes," said Underwood. "They are long overdue." Underwood's work in nutrition counseling reveals that despite research indicating that more Americans are reading nutrition labels, many are often unclear about what the contents mean and how to apply the information to their daily diet. Underwood said emphasizing total calories in larger, bolder type size as well as the inclusion of added sugars are two important upgrades.
Underwood's hope is that a more accurate representation of serving size will encourage discretion in the quantity of food an individual consumes. "I think the changes to portion size will have an eye-opening effect. Hopefully, they will help someone think twice about eating an entire package of snacks or drinking an entire bottle of soda," she said.
"Minimizing added sugars has been an important focus since new guidelines were issued in 2010," Underwood explained. "There is a difference between natural sugars and sugars added in processing. These added sugars have been found to be a contributing factor in our nation's obesity epidemic." Statistics from the Centers for Disease Control indicate that greater than a third of Americans are obese.
Another plus, in Underwood's opinion, is the inclusion of the percentage of potassium under the listing of vitamins and minerals. "The addition of potassium will be helpful to our patients who need to monitor their intake due to conditions such as kidney disease," she explained.
Underwood believes enabling consumers to make better choices will have a positive residual effect that will improve health while reducing healthcare costs in general. Underwood also said it seems reasonable that manufacturers will respond by improving product content to meet consumer demand. She cited the trans fat controversy a few years ago, and recent cases including demands for changes to be made by Subway restaurants and Kraft Foods manufacturers as proof.
Although the FDA is projecting a $2 billion investment from the food industry to incorporate the change, Underwood contends that capital will produce a tremendous return on investment for fighting chronic disease and improving lives. "Lifestyle changes will show marked reductions in healthcare costs down the road," she said. "It is much less expensive to educate someone about making important lifestyle changes than it is for triple bypass surgery."
As a registered dietitian and licensed dietitian nutritionist, Underwood is impressed by the strides being made nationally by Michelle Obama's "Let's Move!" campaign to reduce obesity. "The USDA's Choose My Plate tool as well as other free resources available on choosemyplate.gov and letsmove.gov are valuable for helping families develop healthy eating habits," said Underwood. "In my line of work, I often help people to better manage chronic diseases like heart disease, high blood pressure and diabetes, but my overall desire is to help people live healthy lives."
SH's efforts to help employees, patients, family members and the community to focus on healthy lifestyle choices include everything from healthy food menus in cafeterias to patient and community outreach education programs. In support of March's National Nutrition Month, ARAMARK at Susquehanna Health recently introduced a new health and wellness program in the cafeterias at each of the hospital campuses to support the community of people who use those food services. The Healthy for Life program features healthy food, nutrition education and wellness programs that support healthy environments to encourage healthier lifestyles.
Healthy living information is also provided to the community in the form of outreach classes offered through Susquehanna Health's LifeCenter and Diabetes & Nutrition Care Center. Through a partnership with Penn State's Cooperative Extension, Susquehanna Health also offers the Dining with Diabetes program. This five-week series includes A1c (blood sugar) tests, food demonstrations, ideas for managing diabetes and physical activities.
The Diabetes & Nutrition Care Center also provides regularly scheduled classes led by registered dietitians and certified diabetes educators on topics including Addictive Foods, Diabetes, Glycemic Index, Healthy Heart and Healthy Eating During Work and Travel. For more information about Susquehanna Health's Diabetes & Nutrition Care Center, visit SusquehannaHealth.org or call 570-326-8410.
About Susquehanna Health
Susquehanna Health is a four-hospital integrated health system including Divine Providence Hospital, Muncy Valley Hospital, Soldiers + Sailors Memorial Hospital and Williamsport Regional Medical Center located in North Central Pennsylvania. Serving patients from an 11-county region, Susquehanna Health is a healthcare leader and has been recognized at the national and state levels for quality of care. Susquehanna Health offers a wide array of services that include cancer care, heart and vascular care/heart surgery, neurosciences including neurosurgery, orthopedics, urology, OB/GYN, gastrointestinal services, behavioral health, physical rehabilitation, home care, long term care, assisted living and paramedic/ambulance services.