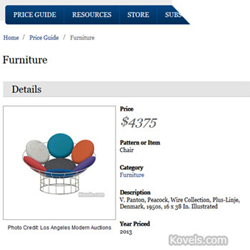 Cleveland, OH (PRWEB) March 07, 2014
Kovels.com, the web's largest free antiques and collectibles price guide, has just added more than 40,000 prices and 2,500 new photos of priced antiques. Every price is reviewed by experts. The user-friendly Kovels.com online price guide is organized into over 700 categories that represent the most popular collecting interests—including Art Pottery, Depression Glass, Furniture, Jewelry, Sports Memorabilia, Toys and more. And each category includes a short description and history.
The Kovels.com online price guide is useful to both new and experienced collectors. It is a report of asked-for prices, gathered and edited by Kovels from sales at shops, shows, flea markets, auctions, magazines, newspapers, online sales, dealers, and other sources. No estimates here, no "suggested" prices. And all of the over 900,000 prices in the online price guide are dated so you can see what prices were both now and years ago. It's information that can identify market trends and serve as a guide for buying, selling, appraising, or settling an inheritance.
With two generations of Kovels editing the content, it now lists pieces made as recently as 1990 that reflect the great interest in not only midcentury modern furniture but also studio pottery and Italian art glass made since 1950. Prices still reflect the demand for Asian antiques. Jade, ivory, cloisonné, and ceramics made in China, Japan, Korea, and other Asian countries have been selling for many times presale estimate.
You can find almost anything among the Kovels' added prices and thousands of pictures. An American silver spoon made in about 1900 that was the award in a pretty-baby contest went for $191. A brick embossed "Don't spit on the sidewalk" sold for $154. It was made during a health campaign to control the spread of tuberculosis. There was even a jailhouse trap door, 76 by 27 inches, made of wood and iron in 1827. It sold for $384. The highest priced piece is a Tiffany glass window made in 1916 that sold for $132,000. The lowest price is $1 for a 144-page American Red Cross First Aid textbook. A 3/8-inch plastic button shaped like a pair of dice is the smallest. It sold for $6.
Terry Kovel is America's foremost authority on antiques and collectibles. She is a well-known columnist and author of more than 100 books on antiques and collecting. With her daughter, Kim Kovel, she co-authors the best-selling annual "Kovels Antiques and Collectibles Price Guide." Both Terry and Kim are collectors. They will discuss antiques and collectibles topics with accredited media. Photographs are available. Contact pr(at)kovels(dot)com.
About Kovels.com
Kovels.com, created by Terry Kovel and Kim Kovel, provides collectors and researchers with up-to-date and accurate information on antiques and collectibles. Kovels' Antiques was founded in 1953 by Terry Kovel and her late husband, Ralph. Since then, Kovels' Antiques has published some of America's most popular books and articles about antiques, including the best-selling "Kovels' Antiques and Collectibles Price Guide," now in its 46th edition. The Kovels' website, online since 1998, offers 900,000 free prices and includes a free weekly email, "Kovels Komments." It give readers a bird's-eye view of the market through the latest news, auction reports, a Marks Dictionary, readers' questions with Kovels' answers and much more.