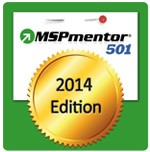 'We finished number 1 in the Rocky Mountain West,' said Mike Bank, VP Critigen Managed Services.
Denver, Colorado (PRWEB) March 11, 2014
Critigen Managed Services is pleased to announce they have again been named to Nine Lives Media's sixth-annual MSPmentor 501 Global Edition (http://www.mspmentor.net/top501), a distinguished list and report identifying the world's top 501 Managed Service Providers (MSPs).
Mike Bank VP Critigen Managed Services Sales and Marketing said, "We feel great to be part of this select group." "We finished in the top 60, and when you think of all of the MSP's in the U.S. and Europe combined, we feel good about what we have accomplished." "We finished number 1 in the Rocky Mountain West."
The MSPmentor 501 report is based on data from MSPmentor's global online survey conducted October-December 2013. The MSPmentor 501 report recognizes Top Managed Service Providers based on a range of metrics, including annual managed services revenue growth, revenue per employee, managed services offered, and customer devices managed.
"MSPmentor congratulates Critigen Managed Services on this honor," said Amy Katz, president of Nine Lives Media, a division of Penton Media. "Qualifying for our MSPmentor 501 Global Edition puts Critigen Managed Services in rare company."
Managed Service Providers on this year's global 501 list lifted their combined annual recurring revenues 28 percent to $2.61 billion. Together, those MSPs now manage more than 3.54 million PCs and 726,000 servers and network devices, according to Joe Panettieri, editorial director, Nine Lives Media.
About Critigen Managed Services
Critigen Managed Services, is a global leader in IT Outsourcing and Cloud solutions. Critigen Managed Services provides innovative solutions for its global client base integrating mature and emerging technologies such as cloud storage, Enterprise outsourcing, application management and 24x7 maintenance and monitoring services. Critigen's Managed IT Services empower people, processes and performance. Learn more about Critigen Managed Services at http://www.critigen.com/managed-it-services.