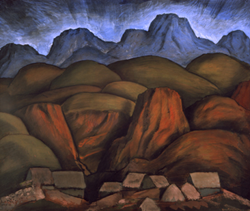 The most obscure, the most self effacing, and yet the most important man in the Mexican Renaissance is Alfredo Ramos Martínez, the inventor.
Claremont, CA (PRWEB) March 07, 2014
Known for his distinctive contribution to modernism, Alfredo Ramos Martínez's paintings and murals were deeply informed by both the European academic traditions he had absorbed while traveling abroad and by the social and populist art beginning to take root in Mexico. Although initially hailed as an innovator, Ramos Martínez was quickly left on the outskirts of the artistic trends that dominated Mexico City in the 1920s when his peers, Diego Rivera, José Clemente Orozco, and David Alfaro Siqueiros— los tres grandes— and their rejection of Europe and academic traditions, rose to prominence. Seeking opportunities to continue his own modernist style, he moved to Los Angeles. With the United States on the brink of a depression, much of his work from that period reveals both the economic and cultural climate of the country as well as his individual response to Mexico from Los Angeles.
On Sunday, March 23, please join us in the Humanities Auditorium of Scripps College to delve more deeply into the life of this artist, of whom was said: "The most obscure, the most self effacing, and yet the most important man in the Mexican Renaissance is Alfredo Ramos Martínez, the inventor." (Brooke Waring, North American Review, 1935)
This symposium is supported by the Clark Fund of Scripps College.
Symposium Topics and Speakers:
Making Religion Modern: Alfredo Ramos Martínez and his Contemporaries
Amy Galpin, Curator, Cornell Fine Arts Museum, Rollins College
Conserving Alfredo Ramos Martínez's The Flower Vendors
Aneta Zebala, Art Conservator, Owner, Aneta Zebala Paintings Conservation, Santa Monica, CA
Printmaking in Los Angeles and the Role of Maria Sodi de Ramos Martínez
Mary Goodwin, Associate Professor of Art History University of Alaska Fairbanks
Panel Discussion
Suzanne Muchnic, Art Writer, moderator
Tea to follow in the Margaret Fowler Garden featuring the 1945-1946 fresco mural by Alfredo Ramos Martínez, entitled, The Flower Vendors.
Open to the public; admission is free, but space is limited. To RSVP, please email janderso(at)scrippscollege(dot)edu or call (909) 607-4690.
Organized in conjunction with the exhibition, Picturing Mexico: Alfredo Ramos Martínez in California, at the Pasadena Museum of California Art through April 20, 2014. http://bit.ly/ramosmartinez_pmca
Scripps College was founded in 1926 by Ellen Browning Scripps, a pioneering philanthropist and influential figure in the worlds of education, publishing, and women's rights. Today, Scripps is a nationally top-ranked liberal arts college and women's college with approximately 950 students, and is a member of The Claremont Colleges in Southern California. The mission of Scripps College is to educate women to develop their intellects and talents through active participation in a community of scholars, so that as graduates they may contribute to society through public and private lives of leadership, service, integrity, and creativity.