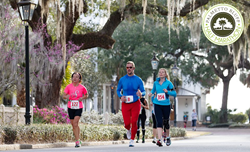 2014 Bliss Award™ Winner - Best South Carolina Community of the Year
Hilton Head, South Carolina (PRWEB) March 07, 2014
Founded by local runners, and continued by the Lowcountry community, The Palmetto Running Company spearheads numerous local events in coastal South Carolina. The most recent event stirring up attention is the Palmetto Bluff Half Marathon, a fundraising event for BackPack Buddies. BackPack Buddies helps provide food for children that may otherwise not have enough by sending backpack homes with children each weekend full of food.
On Sunday, March 9th at 9:00AM runners will take off from Laurel Oak Boy Road for a 13 mile marathon through gorgeous countryside, along rushing rivers, and over a few steep incline bridges. Passing by The Point on Old Palmetto Bluff Road, runners swing by stunning scenery speckled with adorable Palmetto Bluff cottages. The warm weather works up a sweat as athletes trek though one of the best places to live in coastal South Carolina, but Palmetto Bluff is prepared for anything with its six drink stations, and first aid stations situated at either end of the five mile loop.
Competitors are of all ages, and many winners of the previous years are 50+. Running is a growing trend for the Baby Boomer generation, and many are looking forward to this year's big run followed by marathon celebrations. Palmetto Bluff festivals and events celebrate the close-knits communities with a whole day of festivities. Each participant receives a Finisher medal, with first place medals awarded to each male and female contestant of highest performance. Register at active.com before Thursday, March, 6th to secure your spot in the Palmetto Bluff Half Marathon.
Known as one of the best places to live in coastal South Carolina, Palmetto Bluff festivals and events are only two reasons this master-planned community is Real Estate Scorecard's pick for Baby Boomers looking to retire in South Carolina. The gated waterfront community boasts an 18 Hole Championship Golf Course overlooking the crystal waters of the May River and extensive wellness amenities.
PALMETTO BLUFF AMENITIES:
24 Hour Manned Gated Entrance
18 Hole Championship Golf Course designed by Jack Nicklaus
5,000 Square Foot May River Golf Clubhouse with dining
The Inn & Spa at Palmetto Bluff with heated Swimming Pool
River House Fitness Center and Heated Lap Pool at the Spa
River House Restaurant
Longfield Stables - Full Service Equestrian Center
24 Stall Barn, Covered Arena, Practice Course
Wilson Landing - 80 Dry Storage Boat Slips, Boat Rentals and Outfitters Center
Wilson Lawn & Racquet Club with 8 Har-Tru Tennis Courts & Two Bocce Ball Courts
Wilson Village - RT's Market, Chapel, Shops and Restaurants
Canoe Club & Fitness Center with Jacuzzi and Kiddie Pool
Canoe Club Restaurant
15 Miles of Riding and Walking Trails
6,000 Acre Nature Preserve
Palmetto Bluff cottages hold a modest cottage appeal while implementing the luxury amenities offered by a private community. Mature oaks and drooping willows border the brick walking paths, and shade the beautifully constructed homes of Palmetto Bluff. Visitors quickly fall in love with the Wilson Village where boutique stores, and fine dining only a block away. Take a tour through one of the best places to live in coastal South Carolina, and explore the endless amenities at Palmetto Bluff during this charitable event.
About Real Estate Scorecard:
Real Estate Scorecard writes unbiased real estate reviews providing in-depth information about popular gated communities in Florida, Georgia, North Carolina, South Carolina and Tennessee, all in an effort to help people discover where to retire in the Southeast.
Website: http://realestatescorecard.com