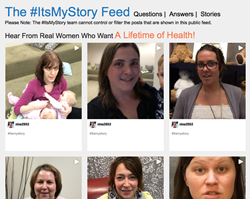 At this early stage it's very important for people to know that by sharing one post on Instagram with #ItsMyStory in the message, they will directly help all women improve their health and healthcare while giving $5 to homeless children! It's simple!
Bedford, NH (PRWEB) March 06, 2014
Well in advance of their upcoming outreach event to be launched at the WZID Women's Expo this Saturday, March 8th, 2014, Bedford Commons OB GYN of Bedford and Derry, NH has intrigued area women with their #ItsMyStory campaign that asks, "What's Your Story?" Just by visiting the http://www.BCOG.com/itsmystory website anyone can view the Twitter, Facebook and Instagram posts from several dozen women (and a few men) sharing what is great or needs to change to promote better women's health and healthcare.
According to Nate Lindquist, the campaign's creator, "At this early stage it's very important for people to know that by sharing one photo post and comment or a 10 or 15 second video post and comment with #ItsMyStory in the message, they will directly help all women improve their health and healthcare! Sure, this is one small campaign, but the message speaks to a nationwide problem. What's working and what isn't in their pursuit of excellent health and healthcare?"
According to the WHO Report November 2011, WHO: Women's Health and 'urgent priority', "Improving women's health matters to women, to their families, communities and societies at large," the report concludes. "Improve women's health, improve the world."
The report also notes,"Establishing healthy habits at younger ages (and throughout life stages) can help women to live active and healthy lives until well into old age."
Bedford Commons OBGYN shared that it is has been working hard for over 30 years to provide what the practice is now referring to as "Uncommon Care for Women" and Christina Haag, the practice administrator shared her thoughts about how their #ItsMyStory outreach campaign meets their mission, "The best way to improve the healthcare experience and in turn women's health is to promote more conversation about it. We need to ask more questions so women can openly speak out for what they want and what could be better at every stage of their life!"
So far the campaign's site reports issues from avoiding Doctor visits and taking time to exercise, to wanting more comfort and even Doctors telling patients what is possible and therefore limiting them from achieving better health. Also, one grateful mom shared her appreciation to the team of Doctors who performed successful heart surgery on her newborn daughters.
Anyone interested in supporting the #ItsMyStory campaign can submit a post on the @BedfordCommonsOBGYN Facebook page or upload a story on instagram in video or photo with a hashtag of #ItsMyStory. Every story shared creates a $5 donation to Marguerite's Place, Inc. that provides aide to homeless moms and children. Also, when you share a story you are also entered to win one of the many prizes donated by Bellman Jewelers, Nini Bambini and Innerspire.
About Bedford Commons OB GYN:
Bedford Commons OB-GYN, PA, located at 201 Riverway Place in Bedford, NH, and 6 Tsienneto Road, Suite 202, Derry, NH provides personalized, state-of-the-art health care services for women of all ages. Founded in 1982, the physicians and staff of Bedford Commons OB-GYN are dedicated to the goal of combining caring medicine with quality medicine. Comprehensive on-site services include obstetrics and gynecology, well-woman exams, pediatric and adolescent gynecology, family planning, menopausal and hormonal management, and wellness programs. The Practice's physicians are board certified.
For More information, visit http://www.bcog.com or contact Christina Haag at 603.668.8400