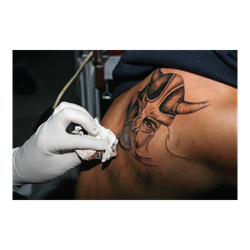 When getting gauges or tattoos it shouldn't be on a whim.
Las Vegas, Nevada (PRWEB) March 08, 2014
Fads come and go, but never before have the fads been so permanent. In the 60's, the hippies of the past merely grew their hair and wore questionable clothing and beads. In the 80's, an explosion of hair, platform shoes and tight man made fabrics were the rage. But today, teens and young adults are opting for more permanent fads like tattoos and gauged ears.
"We actively participate a community called RealSelf.com, where people can ask questions of doctors and receive answers from a variety of physicians. We've seen a huge increase in questions about surgical removal of tattoos and repairing ear gauges lately," said Dr. F.Victor Rueckl. He continued, "We want to give them good news, but honestly the solutions are often less than optimum given the size of the tattoos and the ink color."
According to Tattoos-away.com, "Excision tattoo removal is the procedure of removing a tattoo by actually 'cutting it out' and sewing the skin back together. This method positively eliminates the unwanted tattoo."
"The choices for tattoo removal are laser removal and surgical excision and neither result is optimum. We always see a slight image after our treatments. Excision is also visible, as we often need to graft skin from another location on the patient's body to 'fill in the hole' if you will," continued Rueckl. He then went on to say, "It takes many laser sessions to remove the ink and even then, you can still see a ghostly image."
According to Wikipedia, "Certain colors have proved more difficult to remove than others. In particular, green ink has always posed a problem. The reason for this is due to the molecular size of the green ink particles being significantly smaller than other colors. Consequently green ink tattoos require higher power densities than are achievable with Q-switched lasers; such lasers need to output energy in pico second pulse widths. Clinical studies with pico second Nd:YAG lasers have proven more successful with green, and other colored, inks."
Rueckl continued, "Tattoo lasers are more improved than they have been in the past, but certain colors are still nearly impossible to remove. A normal result from a tattoo laser is more of a smearing and lightening, rather than an actual removal. And you can only have a treatment every 3-4 weeks. So if you have to get rid of something quickly, laser treatments may not be an option at all."
According to the American Society of Dermatologic Surgery, these are the "do's and don't's" of tattoo removal:
Do…
•Find the right doctor. Choose someone qualified to perform tattoo removal procedures, such as an ASDS dermatologist.
•Communicate. Discuss with your doctor the reasons why you want your tattoo removed, and manage expectations.
•Remain aware of costs. Tattoo removal is considered an aesthetic or cosmetic procedure in nature and generally not covered by medical insurance.
•Take care of yourself. Follow all pre-and-post operative treatment procedures carefully; ask your doctor questions if anything is unclear.
Don't…
•Consider tattoo removal if you have certain autoimmune system disorders, pigmentation problems, active acne, warts, unstable diabetes, active rosacea or other undiagnosed lesions.
•Forget to ask your physician about the risks associated with the procedure.
•Attempt to remove your own tattoo or anyone else's. It is dangerous and can lead to infections, serious health complications and even death.
•Have a procedure performed in unsanitary conditions.
•Ignore an infection. Contact your doctor immediately if you suspect any problems or experience considerable redness or soreness.
There are 12 million results from Google when "tattoo removal" was typed into the search. A poll conducted in January 2012 by Harris Interactive, stated that 1 in 7 (14%) of the 21% of American adults who have a tattoo regret getting one. The poll didn't report the reasons for those regrets, but a poll that was done 4 years prior reported that the most common reasons were that the recipient was simply too young and they felt, "marked for life" or "I just don't like it."
Rueckl said today, "I used to fix a torn earring hole from time-to-time for a woman who had it grabbed and torn out by a baby, or someone who caught it and it tore through, or someone who simply aged and the hole got bigger and longer. But in the last 5 years I have seen a tremendous increase in the number of earring holes I'm fixing on younger people due to a new fad called gauging."
"Either people got a lot of holes all at once in college, and then realized the corporate world wasn't going to be so keen on this, or more than once, I've been referred patients by the military because you can't have gauges in the armed forces so they need them fixed before basic training starts," he continued.
Rueckl's final advice, "When getting gauges or tattoos it shouldn't be on a whim. You need to decide long-term what kind of plan or job you will have, because you may not want to go through the process of fixing what may have seen like such a great idea on a drunk Saturday night..."
For more information about tattoo removal or repair of gauged ears, contact Lakes Dermatology at 702-869-6667.
References:
1). Tattoos-away.com
2). http://en.wikipedia.org/wiki/Tattoo_removal
3). https://www.asds.net/TattooRemovalInformation.aspx
4). https://www.google.com/#q=tattoo+removal