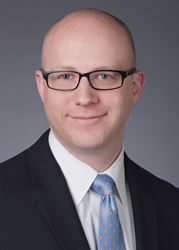 Boise, Idaho (PRWEB) March 07, 2014
Holland & Hart LLP is pleased to announce the addition of Bret Clark to its Boise office. Clark will practice in the firm's employee benefits group.
Clark is an ERISA attorney who focuses his practice on employee benefits and executive compensation matters. He has extensive experience in virtually all aspects of employee benefits and executive compensation, including retirement plan design, maintenance and corrections; welfare plan compliance with health care reform, HIPAA, COBRA and other applicable requirements; benefits committee and compensation committee consulting; DOL and IRS filings and assisting in the benefits aspects of mergers and acquisitions.
Clark is on the Board of Directors of the Boise chapter of the Western Pension & Benefits Council.
He is a graduate of Brigham Young University (B.A., 2001 and J.D., 2004). He is admitted to the state bars of Idaho, Washington, Utah and Ohio.
About Holland & Hart
Holland & Hart LLP delivers integrated legal solutions to regional, national and international clients of all sizes.
Since its inception in 1947, Holland & Hart's more than 450 lawyers have consistently been recognized by leading national and international peer and industry review organizations for innovation and dedication to the practice of law.
For more information, visit http://www.hollandhart.com.