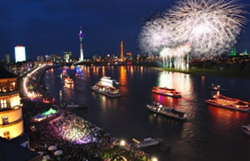 Düsseldorf regularly transforms itself into one giant outdoor festival site.
Düsseldorf, Germany (PRWEB) March 07, 2014
Summer or winter, the city of Düsseldorf likes to celebrate outdoors, and millions join in from all over the world for a piece of the fun 12 months of the year. Whether it's Carnival in February, when a million revelers in costumes march through the city during the Rose Monday Parade to scare away the winter spirits; the "Biggest Fun Fair on the Rhine," one of Germany's top outdoor festivals delivering all the joys of a German fest during 10 summer days; or the amazing Christmas market, a four-week-long holiday shopping and culinary extravaganza, the whole city regularly transforms itself into one giant outdoor festival site.
No wonder Düsseldorf is such a magnet for fun seekers – the city on the Rhine River is at the center of the Rhine Ruhr area, a bustling network of 53 connected cities with 18 million residents within a 40 mile radius, 35% of the EU's total population (148 million) in a 300 mile radius, and a major international airport (Düsseldorf Airport – DUS) that makes reaching this metropolis easy from any part of the world, including 7 direct flights from North America. Add to this the city's No. 6 ranking on a global list of cities with the highest quality of living (source: Mercer's 2013 Quality of Life Survey), and you understand the strong pull the city has on international visitors for its year-long open-air event schedule.
2014 Open-Air Event Highlights
May 17: Japan Day (cultural festival)
June 6-8: Düsseldorf Jazz Rally
June 27: Opera for All (premier on giant outdoor screen)
July 4-6: France Festival (cultural festival)
July 11-20: Biggest Fun Fair on the Rhine
August 2-3: Barockfest at Benrath Castle
August 8-17: Asphalt Festival (Summer festival for theater and music)
August 22-24: Gourmet Festival
September 6: Chinafest (cultural festival)
November 11: "Hoppeditz Awakening" (Carnival season kick-off)
November 20-23: Christmas Market
Düsseldorf's tourism office is offering hotel and city specials for many of the city's events throughout 2014. Packages, called "Düsseldorf à la Card" can be booked right from the tourism office's website at http://www.duesseldorf-tourismus.de/en/hotel-packages/duesseldorf-a-la-card/. Prices start at €49 per night per person based on double-occupancy for a 2-3 star hotel in the city center and at €95 per person for a 4-5 star hotel. All packages include breakfast, a DüsseldorfCard (free public transportation within city limits plus 30 free or reduced admissions to city attractions), and a city information package. Please check the website for current information.
For more information on the destination Düsseldorf and a calendar of events, visit http://www.visitduesseldorf.de.
###
Düsseldorf Marketing & Tourism GmbH is the visitors and convention bureau of the city of Düsseldorf. Its responsibilities include tourism and city marketing, as well as conference and meeting marketing, hotel reservation services, fairs and convention services, city event ticket sales and advance ticket reservations. For more information, visit http://www.visitduesseldorf.de.
Düsseldorf Airport, Germany's Next Generation HubTM, offers several non-stop flights from US & Canadian cities (Atlanta, Chicago, Ft. Myers, Los Angeles, Miami, New York, Newark, Toronto), as well as convenient connections to many European cities. For more information about the airport, visit http://www.dus.com.