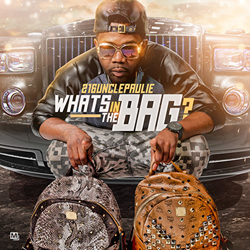 Cleveland, OH (PRWEB) March 07, 2014
Coast 2 Coast Mixtapes announce the release of the What's In The Bag?" Single by 216UnclePaulie. The song is currently available for download.
216UnclePaulie, real name Paul Moncrief, is an emcee born in Cleveland Ohio. Hailing from the infamous Morris Black projects, 216UnclePaulie is no stranger to adversity. Paulie's hard work and perseverance has earned him recognition as one of the most respected artists in Cleveland Ohio today. "What's In The Bag?" is a club ready street anthem with a catchy hook and a swagged out vibe.
"What's In The Bag?" is a testament to 216UnclePaulie's years of experience in the game releasing his first project back in 1999 with the release of "Come See Paulie" followed by "M.O.B" in 2003, "H.T.D Vol 1 & 2" in 2004, "Paulie 4 Presedent" in 2008, "Paulie Meets Kanye PT 1" in 2009, "Chanches Make Champions" in 2010, and "Paulie Meets Kanye West PT 2" in 2013. 216UnclePaulie joins Coast 2 Coast LIVE as the official headliner to tour 10 dates in April across the country. See the April tour dates below:
4/7 - Atlanta, GA
Harlem Nights | 201 Courtland Street Northeast Atlanta, GA 30303 | Age Limit: 21
4/9 - Dallas, TX
The Prophet Bar Main Street | 2513 Main St. Dallas, TX 75226 | Age Limit: 21
4/11 - Las Vegas, NV
The Beauty Bar | 517 Fremont St #150 Las Vegas, NV 89101 | Age Limit: 21
4/14 - Los Angeles, CA
Dragonfly | 6510 Santa Monica Blvd Los Angeles, CA 90038 | Age Limit: 21
4/15 - San Francisco, CA
Neck Of The Woods | 406 Clement Street San Francisco, CA 94118 | Age Limit: 21
4/17 - Seattle, WA
Nectar Lounge | 412 North 36th Street, Seattle, WA 98103 | Age Limit: 21
4/20 - Denver, CO
Maxim Lounge | 2915 W. Mississippi Ave. Denver, CO 80219 | Age Limit: 18
4/22 - Chicago, IL
Fiesta Cantina | 3407 N Clark Street Chicago, IL 60657 | Age Limit: 21
4/24 - NYC, New York
Santos Party House | 96 Lafayette St New York, NY 10013 | Age Limit: 21
4/30 - Miami, FL
The Stage | 170 NE 38th St Miami, FL 33127 | Age Limit: 21
To find out more about the Coast 2 Coast LIVE April Tour at http://www.coast2coastlive.com. To get more information from 216UnclePaulie follow him on Twitter at @216unclepaulie.
About Coast 2 Coast Mixtapes
Coast 2 Coast Mixtapes are the most widely distributed mixtapes in the world, with over 100 million downloads/plays generated by over 200 volumes officially hosted by major artists. Coast 2 Coast has a solid reach in the new music industry with a digital magazine, DJ coalition, industry tips blog, yearly convention, and more. Coast 2 Coast Mixtapes represents a unique opportunity for artists of all urban genres, from major to indie. For more information, visit http://www.coast2coastmixtapes.com.