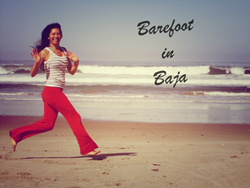 Pushing the borders.....barefoot!
San Diego, California (PRWEB) March 11, 2014
In the series, Lorena plans on traveling solo - exploring the Mexican peninsula, showcasing its beauty, while celebrating and sharing the stories of women like her who venture out of their comfort zones to veer off the beaten path. She addresses questions such as, "Is Baja California really one of the most dangerous places on earth? Is it safe for women to travel alone? Is it possible to produce a travel series for a fraction of the cost of what it would cost in Hollywood?"
Originally, Lorena created an informal pilot video that she shot herself while adventuring throughout the Mexican desert. When that video hit over 23,000 views on YouTube, Lorena realized that there was a hunger for travel shows hosted by women as well as an interest in the region. That's when the Barefoot in Baja project was born.
She recently launched a Kickstarter campaign http://kck.st/1jN0oLD in order to raise funds to complete four web-based episodes. Through the series, Lorena aims to clarify misconceptions regarding tourism in Mexico – portrayed in the media as one of the most dangerous places on earth – by presenting Baja's most beautiful natural resources and encouraging others to find the confidence to explore the world on their own.
This is where YOU come in. The goal is to raise $12,000 on Kickstarter in 30 days. Kickstarter campaigns operate under an "all or nothing" funding model so we really need your help. Please consider making a donation and spreading the word to your social media networks. Together, we can give female-produced work a voice that will help change people's perceptions of Mexico while giving other adventurous women the opportunity to tell their stories!
https://www.kickstarter.com/projects/637532177/barefoot-in-baja